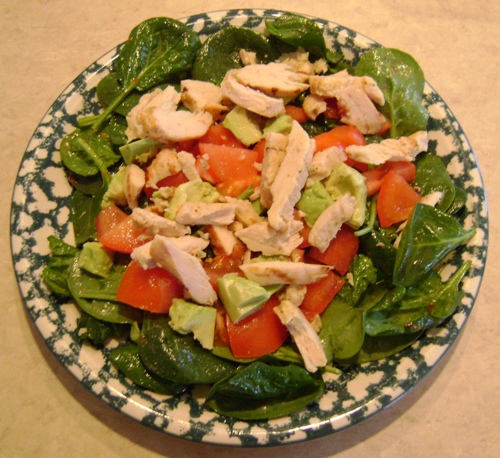 I love to eat main dish salads for lunch.  They are so healthy and tasty, and they make you full.  This main dish salad has sliced chicken, avocado, tomatoes and baby spinach, with the dressing of freshly squeezed lemon juice and olive oil.
For this yummy salad you can use leftover chicken, or buy those convenience packaged cooked chicken strips.  Of course, you can also cook the chicken breast from scratch just for the salad – the best option for that are individual frozen chicken breasts.
Main Dish Salad Recipe With Chicken, Avocado And Baby Spinach
Ingredients
1 cooked chicken breast, sliced
1/2 avocado, chopped
1 tomato, chopped
2 cups baby spinach leaves
1/2 tbsp extra virgin olive oil
1 slice of lemon
Salt and pepper to taste
Instructions How To Make Salad
Put the baby spinach leaves in a bowl. Squeeze the lemon slice over them and drizzle with olive oil. Toss the baby spinach leaves so they are coated with the dressing.
Put the baby spinach leaves on the place. Top with the chopped tomato and avocado pieces. Sprinkle with a little salt and pepper.
Top the salad with the chicken slices.
Preparation time: 5 minutes
Note how this salad uses half of an avocado. Are you wondering what to do with the other half so it doesn't turn brown? Don't worry – you can store is safely – see how to store half of an avocado.
http://www.melaniecooks.com/wp-content/uploads/2012/12/chicken-avocado-spinach-salad.jpg
458
500
Melanie Mendelson
http://www.melaniecooks.com/wp-content/uploads/2015/11/logo-new2.png
Melanie Mendelson
2012-12-21 07:15:11
2012-12-28 08:20:42
Main Dish Salad Recipe With Chicken, Avocado And Baby Spinach