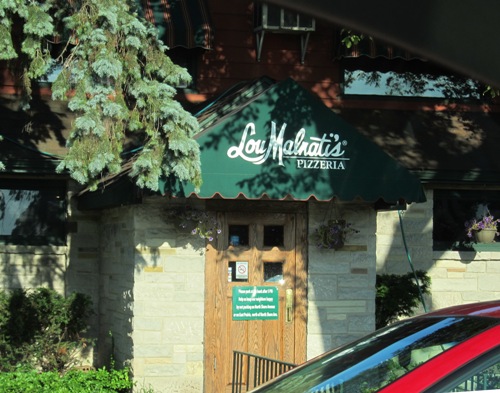 Lou Malnati's Pizzeria is a great Italian restaurant.  Their specialty is pizza, and in addition to pizza they also have great salads, pastas and sandwiches.  Lou Malnati's is a chain with lots of locations in Chicago area.  These pictures are taken in a Lou Malnati's location in Lincolnwood (a northern suburb of Chicago).
Lou Malnati's specialty is Chicago-style deep dish pizza.  The prices for Cheese Deep Dish pizza are $5.95 for 6 inch individual deep dish pizza, $9.45 for 9 inch small pizza, $13.35 for 12 inch medium and $17.25 for 14 inch large pizza.  There is also sausage or pepperoni deep dish pizza, or you can build your own pizza by choosing your own extra ingredients.
A great deep dish pizza option at Lou Malnati's is "The Malnati Chicago Classic" deep dish pizza.  Here's the description from Lou Malnati's menu: "Lou Malnati's is legendary for its pizza in the pan, and here, sausage is the specialty of the house.  Made with Lou's exclusive blend of lean sausage, some extra cheese, and vine-ripened tomato sauce on out famous Buttercrust! It's authentic Chicago!"
Another special deep dish pizza at Lou Malnati's for veggie pizza lovers is The "Lou".  Here's the description from Lou Malnati's menu: "A pizza so good we gave it his name! Fresh enhanced spinach mix, mushrooms and sliced roma tomatoes covered with a blend of mozzarella, romano and cheddar cheese."
Lou Malnati's also has thin crust pizza available – cheese thin crust, sausage thin crust or pepperoni thin crust.  The extra ingredients that you can add to any thin crust of deep dish pizza are: mushrooms, onions, green peppers, olives, tomatoes, garlic, hot peppers, anchovies, spinach.
Lou Malnati's in Lincolnwood is decorated with a sports memorabilia theme.  Here are the sports pictures on the walls:
Here's more of the sports memorabilia on the walls of Lou Malnati's in Lincolwood: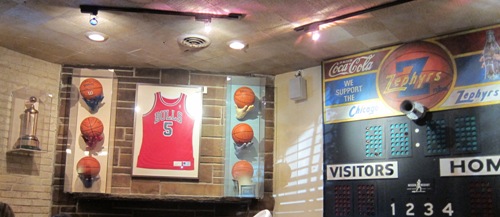 Lou Malnati's is a very kid friendly restaurant.  Here's Lou Malnati's kids menu: the kids menu options are spaghetti or penne pasta with meat or marinara sauce, mini burger, chicken nuggets and fried mac and cheese wedges.  The kids menu items are $4.50 and come with a small drink.  And don't forget about the pizza!  If the adults are ordering pizza, most kids will just share the pizza 🙂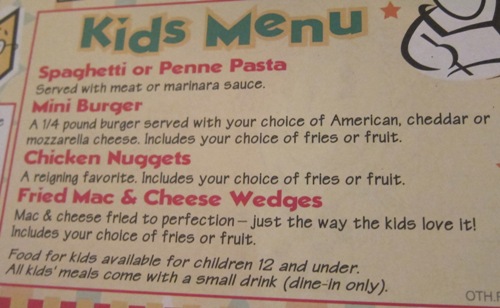 Here's the picture of Lou Malnati's house salad:
Here's the picture of chicken nuggets from the kids menu, served with Ranch dressing for dipping and with grapes and watermelon slices: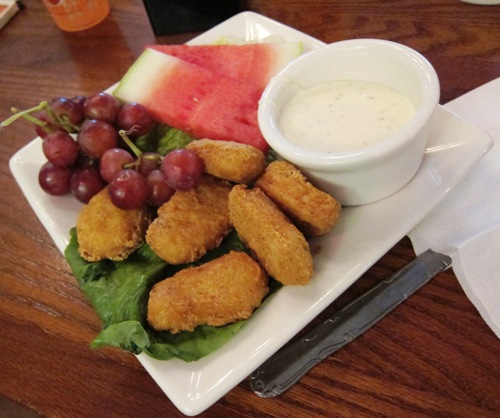 Here's the Cesar salad from Lou Malnati's: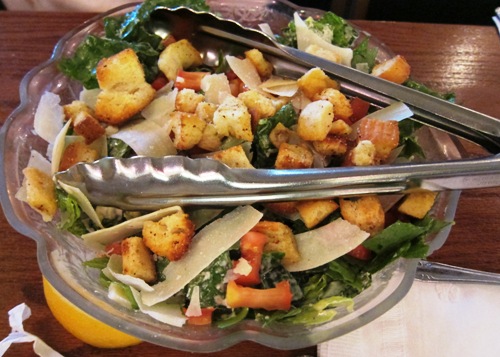 Here's Lou Malnati's excellent minestrone – it's a great authentic minestrone, so filling and yummy:
And here's Lou Malnati's meatball sandwich, served with fruit: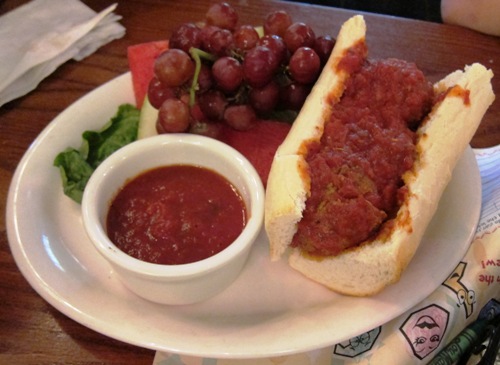 Lou Malnati's is a great restaurant – very tasty, inexpensive and kid friendly – highly recommended!  The Lincolnwood Lou Malnati's address is 6649 North Lincoln Avenue
Lincolnwood, IL 60712, phone #847.673.0800.
http://www.melaniecooks.com/wp-content/uploads/2012/08/lou-malnatis.jpg
393
500
Melanie Mendelson
http://www.melaniecooks.com/wp-content/uploads/2015/11/logo-new2.png
Melanie Mendelson
2012-08-29 06:06:09
2012-08-28 08:25:27
Lou Malnati's Pizza Restaurant Review - Chicago And Suburbs