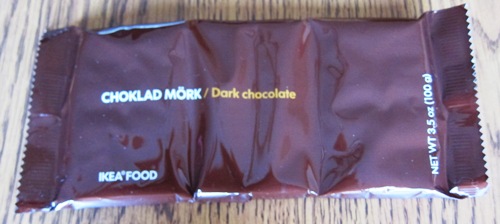 I was at IKEA picking out comforters, and noticed the IKEA chocolate bars by the registers.  I'm a big fan of dark European chocolate, and these IKEA chocolates were 99 cents for a pretty big bar, so I couldn't resist 🙂  Putting those chocolates by the registers is a perfect setup for an impulse buy!
The IKEA chocolate wrapper on the top picture is a wrinkled, and it's because my chocolate melted in the hot car by the time I got home 🙂  I was over 100 degrees outside that day!  So I had to put my chocolate in the refrigerator to get it to harden again.  Even after this incident, the IKEA dark chocolate tasted great!  I'm a chocolate lover, and this dark chocolate is a very high quality chocolate.  It tasted so pure, I was really enjoying this intense dark chocolate flavor!
IKEA has 3 kinds of chocolate: dark chocolate, milk chocolate and hazelnut.   I got myself a dark chocolate bar, as dark chocolate is my favorite kind of chocolate.  The name of the IKEA dark chocolate is Choklad Mork (which I assume is "Dark Chocolate" in Swedish, as Swedish is the language of those cryptic IKEA product names).  The front of the wrapper of the IKEA chocolate is as plain as it can get – it's brown, with the words Choklad Mork/Dark Chocolate in the center, the label "IKEA FOOD" on the bottom, and the weight on the right.
Another great thing about IKEA chocolate is that it has a very short ingredient list.  The only ingredients on the back label are cocoa mass, sugar, fat reduced cocoa powder, cocoa butter, emulsifier (soy lecithin).  It's so nice not to see a huge list of chemicals, artificial flavors and preservatives!
The IKEA chocolate is a German chocolate – on the back of the wrapper it says "Produced in Germany for IKEA Food Services".  The cocoa percentage of IKEA dark chocolate is labeled as "60% minimum".  I'm surprised it's not 70%, since this chocolate tasted pretty intense dark, very similar to typical 70% dark chocolate.
If you are at IKEA and like chocolate, grab yourself some Choklad Mork!  IKEA chocolate is a great chocolate, and you can't beat the 99 cent price!
Here's the picture of the IKEA chocolate, unwrapped and about to me eaten:
Since this chocolate is so cheap, you can stock up on the IKEA chocolate and make an outstanding chocolate truffle cake.  This cake requires 8 bars of chocolate, and it's a true chocolate feast for chocolate lovers!  Check out my dark chocolate truffle cake recipe – you will love it!
http://www.melaniecooks.com/wp-content/uploads/2012/10/ikea-dark-chocolate2.jpg
391
500
Melanie Mendelson
http://www.melaniecooks.com/wp-content/uploads/2015/11/logo-new2.png
Melanie Mendelson
2012-11-15 07:35:07
2012-11-15 20:54:16
IKEA Chocolate - Choklad Mork - Dark Chocolate for 99 cents