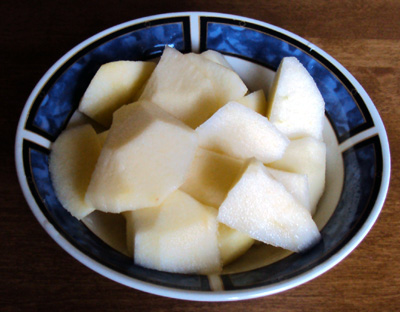 The way to get the fruits eaten is to peel them and cut them into slices.  If the fruits are not prepared for eating, people will be too lazy to prepare them, and fruits will end up spoiled and thrown out.
It's much easier to cut up a bunch of fruits at once, as opposed to doing just a few at a time.  I cut up the fruits and store them in snack-size plastic containers with lids in a refrigerator.  When someone wants a snack, here are the healthy fruits that are ready for eating!  Cut-up fruits disappear in no time :)
Most fruits last for several days in their cut-up state without showing any signs of spoiling.  However, apples turn brown as fast as 30 minutes after being sliced!  For a long time I thought that there is nothing that can prevent apple slices from browning… until I payed attention to the packaged apple slices in the fast food chains!  How come those packaged apple slices don't turn brown?
I looked at the ingredient list on those packaged apple slices that don't turn brown, and saw ascorbic acid (vitamin C) as an added ingredient.  And what natural product is super-rich in vitamin C? Lemons and limes!
Now I knew what to do.  I put some water in a bowl and squeezed some lemon in it.  I peeled and cut an apple, then dropped the apple slices in the lemon water.  After that, I removed the apple slices from the lemon water, put them in a plastic bowl with lid, and put in a refrigerator.  My apples didn't turn brown!  Even the next day, they looked as good as new!
To prevent the apple slices from browning, just dip them in the water mixed with lemon or lime juice, then remove them from water and refrigerate.  I found that bottled lemon or lime juice works just as well as squeezing fresh lemons and limes to prevent apple slices from browning.