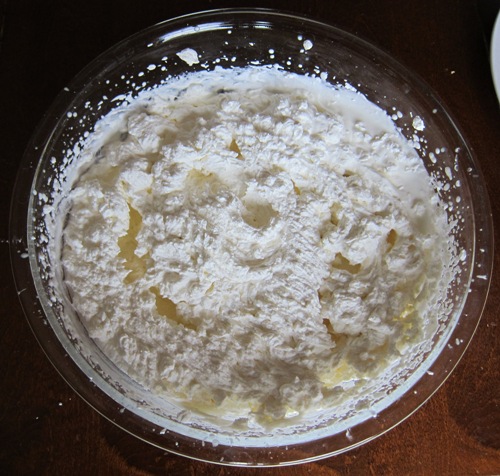 It is very easy to make a white vanilla frosting at home using heavy cream. After you taste a homemade white frosting, you will never want to eat those chemical frostings from a can! This easy white vanilla whipped cream frosting recipe uses just 3 ingredients – heavy cream, vanilla and powdered sugar. This frosting is all natural and tastes delicious!
White Vanilla Whipped Cream Frosting Recipe
Ingredients
2 cups heavy cream
1/4 cup powdered sugar
1/2 tsp vanilla
Instructions
To make this white frosting recipe, you must have a mixer. I use a simple cheap hand-held mixer, and it works great in turning the heavy cream into thick whipped frosting.
This frosting has to be made right before you frost the cake. So make the cake first, then make the homemade frosting!
In a large bowl, mix all ingredients – heavy cream, vanilla and powdered sugar. Turn on the mixer first on low speed, and mix until all the sugar is incorporated into the whipped cream. Then turn on the mixer on the highest speed, and keep mixing until the heavy cream becomes very thick.
How do you know when to stop mixing? If in doubt, keep mixing! When the frosting is done, it should be very thick – the consistency of the whipped cream from the can 🙂 It takes at least 5 minutes of mixing on High setting to whip the frosting, so be patient and keep whipping the cream until it's ready.
Once the white vanilla whipped cream frosting is ready, go ahead and frost the cake. Just use a spoon to put the frosting on a cake, and spread it with a spoon and with your hands.
When you finished frosting the cake, put the cake in the refrigerator. The cake with the white vanilla frosting tastes even better the next day, when the frosting is very cold and the flavor of the frosting has combined with the flavor of the cake! Yum!
The quantity of the white vanilla whipped cream frosting in this recipe is enough to frost a 2 layer cake – between the layers, on top of the cake and the sides of the cake. To frost a 4 layer cake, double the recipe.
Here's the picture of the cake just frosted with this white vanilla whipped cream frosting:
And underneath the white frosting there was a chocolate cake 🙂  Chocolate cake and white frosting make a very nice contrast!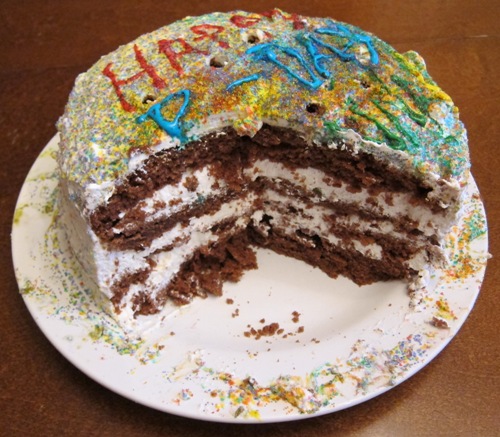 The chocolate cake on the above picture was made using the best chocolate truffle cake recipe… except this time I used the white vanilla whipped cream frosting instead of the chocolate cream.
Get Melanie's FREE Recipes In Your Inbox!
http://www.melaniecooks.com/wp-content/uploads/2011/09/white-frosting-whipped-cream.jpg
476
500
Melanie Mendelson
http://www.melaniecooks.com/wp-content/uploads/2015/11/logo-new2.png
Melanie Mendelson
2011-09-21 15:26:34
2013-03-02 13:19:47
How To Make White Vanilla Whipped Cream Frosting - Easy Recipe