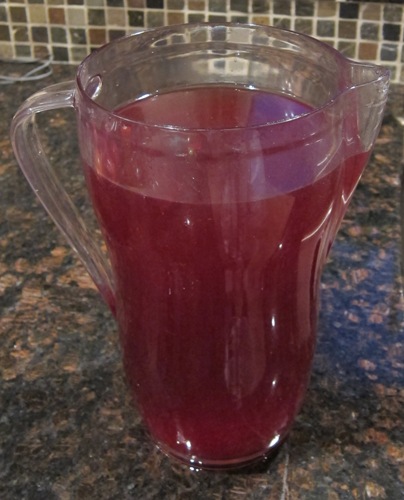 Who wants some chilled red fruit punch on a hot summer days?  This red fruit punch has the smell and flavor of mixed berries, and is so refreshing in the summer.
You are not the type who wants to slave over the stove making fruit punch?  This is a very lazy fruit punch recipe – not work required except pressing the Start button on your slow cooker :)  Slow cooker (crockpot) is a perfect tool for making a fruit punch.  Crockpot simmers the water and berries for hours unattended!  There is no need to watch over a boiling simmering pot – just use the slow cooker, and it will do all the work for you.
Ingredients For Red Mixed Berry Fruit Punch:
3 cups mixed frozen berries
1/2 lemon
1/2 cup sugar
water
Directions For Making Red Mixed Berry Fruit Punch:
Put frozen mixed berries in the slow cooker.  Squeeze the 1/2 lemon in the slow cooker.  Put the sugar in the slow cooker.  Add water to the slow cooker, so the crockpot is 2/3 full.
Set the slow cooker for 2 hours on High and press the "Start" button.
After the fruit punch finishes cooking, try it and see if it's sweet enough for you.  If it's not sweet enough, you can add more sugar and stir so the sugar is dissolved.
Let the fruit punch come to room temperature on the counter.  Strain the fruit punch (I just use a fine-mesh strainer), pour it into a pitcher and put in the refrigerator.
Enjoy your cool red mixed berry fruit punch all summer long!