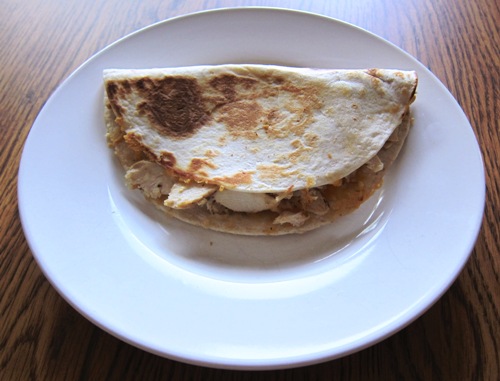 Chicken quesadillas makes a more substantial main dish compared to
simple cheese quesadillas
.  A dinner of chicken quesadillas will satisfy even the most hungry person!  Best of all, chicken quesadillas are extremely quick and easy to make.  Making chicken quesadillas takes 5 minutes from start to finish.Shredded chicken is used as a quesadilla filling along with shredded cheese.  Chicken quesadillas is a great way to use leftover chicken.  Cheese and chicken go inside the flour tortilla and the tortilla is folded in half and cooked on a frying pan.  The cheese inside the tortilla melts and holds the chicken in place.  Chicken quesadilla has a delicious hot browned tortilla on the outside, and hot chicken with gooey melted cheese on the inside!  Bite into this chicken quesadilla and taste the chicken and cheese filling – yum!
Chicken Quesadillas Recipe
Chicken Quesadillas Ingredients
Flour tortilla
Cooked chicken
Shredded cheese
Oil
Instructions How To Make Chicken Quesadillas
Shred the chicken – you can do it either in the food processor or by hand.
Heat a little bit of oil in a non-stick frying pan over medium high heat.
Put tortilla on a frying pan. Sprinkle shredded cheese over 1/2 of the tortilla (the part with the cheese should look like a semicircle).
Put the shredded chicken over the cheese.
Put more shredded cheese over the chicken.
Fold the empty side of the tortilla over the cheese.
Cook for 1 minute.
Carefully flip the chicken quesadilla and cook on the other side for 1 minute.
Enjoy chicken quesadillas piping hot!