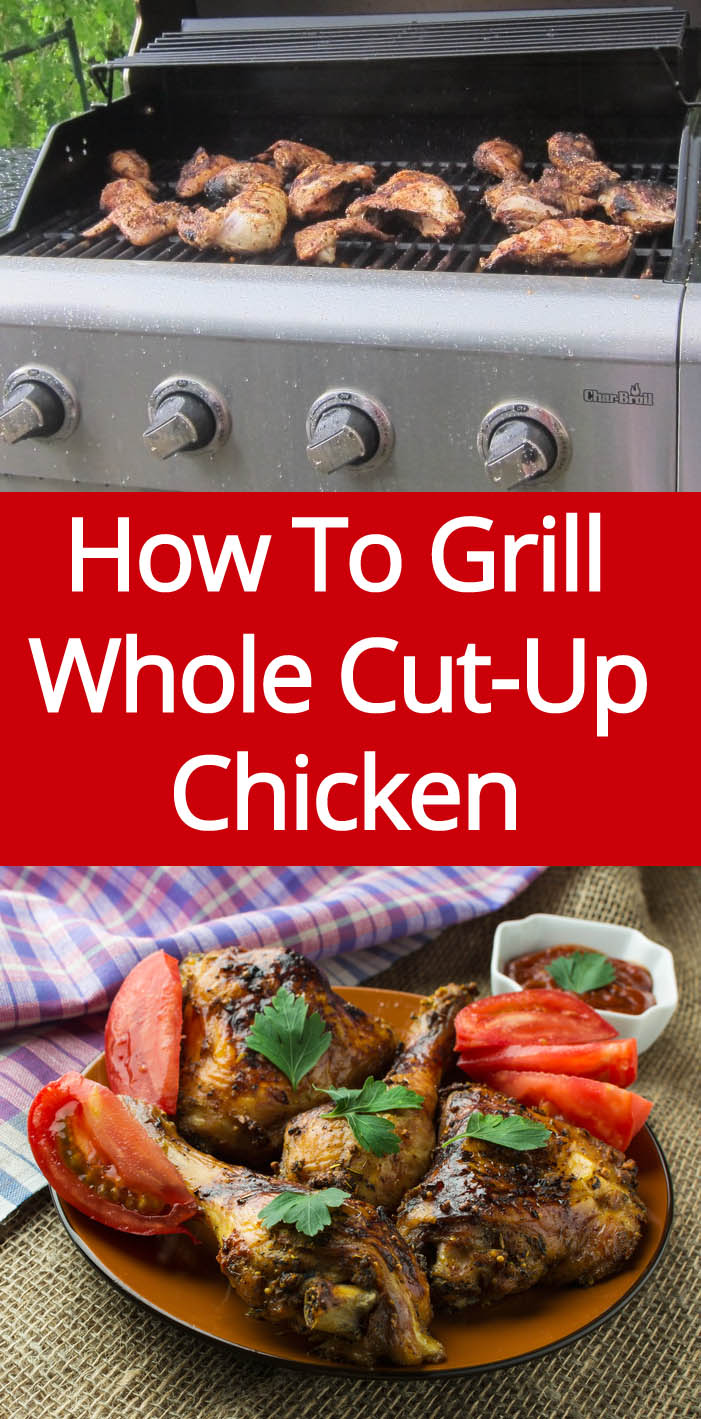 Grilled whole cut-up chicken is a perfect summer outdoor meal.  This chicken has crispy spiced skin with beautiful grillmarks and a deep grilled flavor.  Make your neighbors jealous by grilling this delicious chicken for dinner!
I buy the chicken that's already been cut up at a supermarket – they have it in the meat section next to whole chickens, and it's labeled "whole cut-up chicken".  I want to make my life easy so I don't have to spend time on cutting the chicken up 🙂  A four-burner grill has enough room for two whole cut-up chickens, so I just buy two – it's as easy to grill two chickens as one, and I might as well have leftovers.  You can always use some more grilled chicken the next day!
Making grilled whole cut-up chicken is pretty easy.  All you need to do is take the chicken out of the package, rub it with the seasonings and throw it on the grill.  I just use packaged spice mix labeled "chicken seasoning" and apply is generously.  My favorite packaged seasoning is Weber Kick'n Chicken seasoning – it's amazing! Don't skimp on seasoning for a great tasting chicken!  Cooking outside in a nice weather is a lot of fun, and eating this freshly grill chicken is such a pleasure!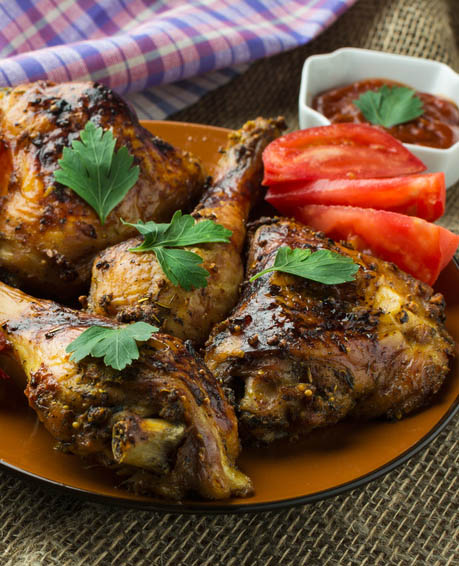 How To Grill Whole Cut-Up Chicken
This recipe shows you a proper way to grill a whole cut-up chicken to perfection! Seasoned chicken parts - legs, thighs, wings and brest - with beautiful grill marks - mouthwatering!
Ingredients
1 whole chicken, cut into parts
3 tbsp chicken seasoning mix
Instructions
Preheat gas grill on High with the cover closed to 425F.
While the grill is pre-heating, rub the chicken with the generous amount of seasoning.
Open the grill cover and put chicken pieces on the grill. Reduce the heat to Medium-High and close the grill cover. Watch the grill temperature - don't let it get higher than 450F, if it gets too high, turn down the heat to Medium.
In 5 minutes, open the grill cover and flip the chicken pieces over. Close the grill and cook for another 5 minutes, then turn the chicken.
Continue flipping the chicken every 5 minutes until it's cooked through (juices run clear when the thickest piece is cut with a knife, about 35 minutes).
Enjoy this delicious grilled whole cut-up chicken!
http://www.melaniecooks.com/wp-content/uploads/2014/06/how_to_grill_whole_cutup_chicken2.jpg
566
459
Melanie Mendelson
http://www.melaniecooks.com/wp-content/uploads/2015/11/logo-new2.png
Melanie Mendelson
2014-06-19 16:28:44
2016-05-20 09:19:53
How To Grill Whole Cut-Up Chicken