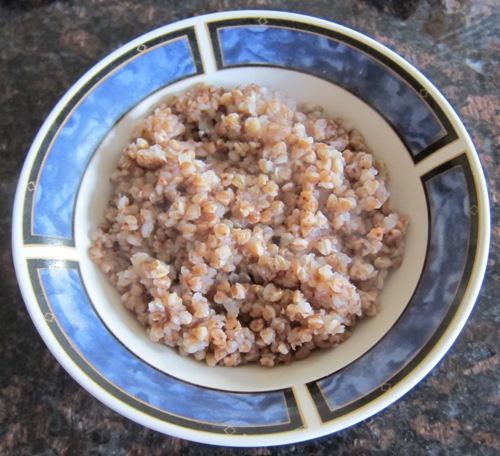 Buckwheat is a very popular grain in Russia.  Buckwheat is very healthy – much healthier than rice, and it makes a very tasty side dish.  In the US, buckwheat is sold in the Ethnic isle of the large supermarkets, and I've also seen buckwheat in Whole Foods.
In Russian, buckwheat is called "grechnevaya kasha" or "grechka".  I've seen the word "Kasha" used in English when referring to buckwheat – some packages of buckwheat are in fact labeled as "Kasha".
Cooking buckwheat kasha is as easy as cooking rice.  First, rinse buckwheat in a colander under cold running water.  I don't rinse quinoa and rice, but I do rinse buckwheat – I think rinsing buckwheat results in better tasting cooked kasha.  Next, add water and bring to a boil, then cover and simmer for 15 minutes. See – it's the exact same process as cooking rice!  The best part is that you can cook buckwheat kasha in a rice cooker.
Recipe: How To Cook Buckwheat Kasha A.K.A Russian Grechka
Ingredients
1 cup buckwheat kasha
2.5 cups of water
1/8 tsp salt
Instructions
Rinse the buckwheat in a colander under cold running water.
Put rinsed buckwheat in a pot. Add water and salt.
Bring water to a boil over high heat.
Reduce heat to the lowest simmer and cover. Cook for 15 minutes.
Fluff kasha with the fork to make the grains separate and fluffy.
How To Cook Buckwheat Kasha In A Rice Cooker
To cook buckwheat in a rice cooker, first rinse buckwheat, then add 1 cup of buckwheat and 2.5 cups of water to a rice cooker.  Press the Start button, and you are done!  I always use the rice cooker to cook Russian grechka – why do the extra work when rice cooker can do everything for you 🙂
Below is the picture of the package of buckwheat kasha:

Here's the picture of the buckwheat kasha cooked in a rice cooker: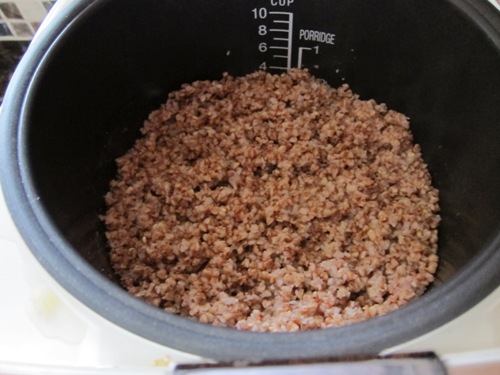 Buckwheat kasha is very tasty as a side dish, and it goes especially well with meat dishes.  Try buckwheat as a side dish for baked BBQ chicken legs – yum!
If you are looking for more Russian recipes, check out Russian potato salad recipe, Russian cheese pancakes recipe, Russian meat patties recipe and Russian eggplant salad recipe.
http://www.melaniecooks.com/wp-content/uploads/2011/06/buckwheat-bowl.jpg
456
500
Melanie Mendelson
http://www.melaniecooks.com/wp-content/uploads/2015/11/logo-new2.png
Melanie Mendelson
2012-11-23 15:02:36
2013-04-20 15:32:18
How To Cook Buckwheat Kasha - Russian Grechka Recipe