"Sushi in the suburbs" – if this phrase evokes the images of uninspired overpriced sushi, be prepared to break this stereotype when you head over to Hakuya Sushi in Buffalo Grove.   Yes, in Buffalo Grove – the place that would never come to mind when thinking of a hip sushi restaurant. Buffalo Grove is an extremely boring sleepy Northwest suburb of Chicago, and I'm sending you to a little sushi joint in a strip mall – but when you get inside and taste their sushi, this will prove the point once again to never judge a book by its cover – and a restaurant by its location.
Hakuya Sushi chef creates amazing sushi rolls that are like works of art.  Inspired roll creations combine such unique ingredients that reading the menu just makes your mouth water.  For example, take Mojito Lime Roll ($13)  – fresh tuna, salmon, white tuna, crab, spicy mayo, avocado, cucumber and cilantro, with soy paper, lime and teriyaki. Or how about Hot Chuck Roll ($13.95) – spicy tuna with jalapeno over fried shrimp, cream cheese, avocado, cucumber, with wasabi mayo and eel sauce.  And here's another one – Crazy Mango Roll ($12.95) – spicy salmon over spicy tuna, crunch chip, cream cheese, mango, sweet sauce and citrus vinaigrette.  And that's just the tip of the iceberg.  There are so many other different fancy rolls, the creativity of Hakuya sushi chef is amazing!
All the sushi that we tried tasted amazing – it was super fresh and delicious!  Hakuya Sushi is also surprisingly affordable – for sushi of this caliber, I definitely expected to pay more!  Some of the rolls are very cheap – for example, Crab Kani Roll and Cucumber Roll are both $2.95!  A large selection of rolls is in the $4 to $7 range – for example, a California Roll for $4.95, Spicy Salmon Roll for $5.95 or Shrimp Tempura Roll for $5.95.  The gourmet rolls range between $10 and $13.  A great money-saving strategy is to get both expensive and inexpensive rolls for a true sushi feast!
At Hakuya Sushi, you certainly get a lot of food for the money.  Each diner gets a complementary miso soup, salad and even edamame!  We didn't even expect to get all these things, and it was such a nice surprise.  I've never seen free edamame at any other sushi restaurants!  We were actually planning to order edamame, but then decided we already have enough food – and I'm so glad we didn't order it, as we ended up getting it for free 🙂
Here's the amazing sushi chef caught on camera:
A cup of delicious Japanese green tea: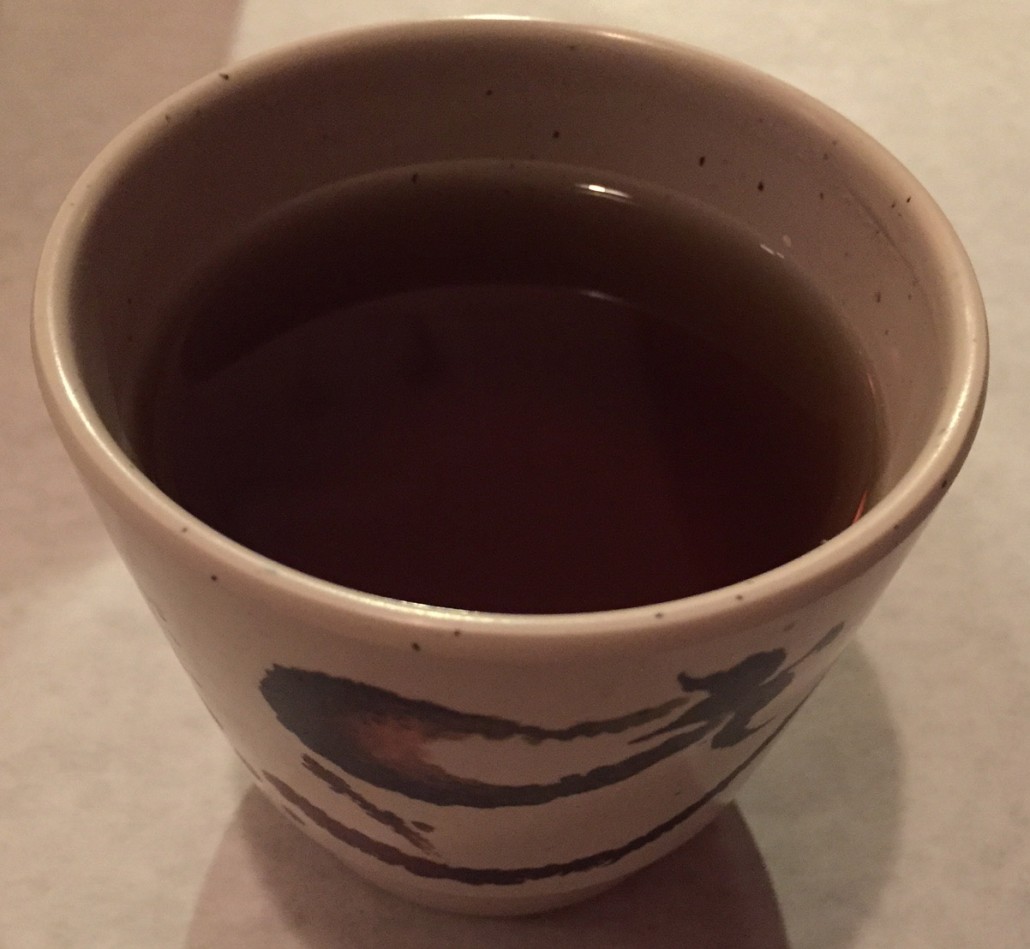 Here's a cup of miso soup – it was perfect!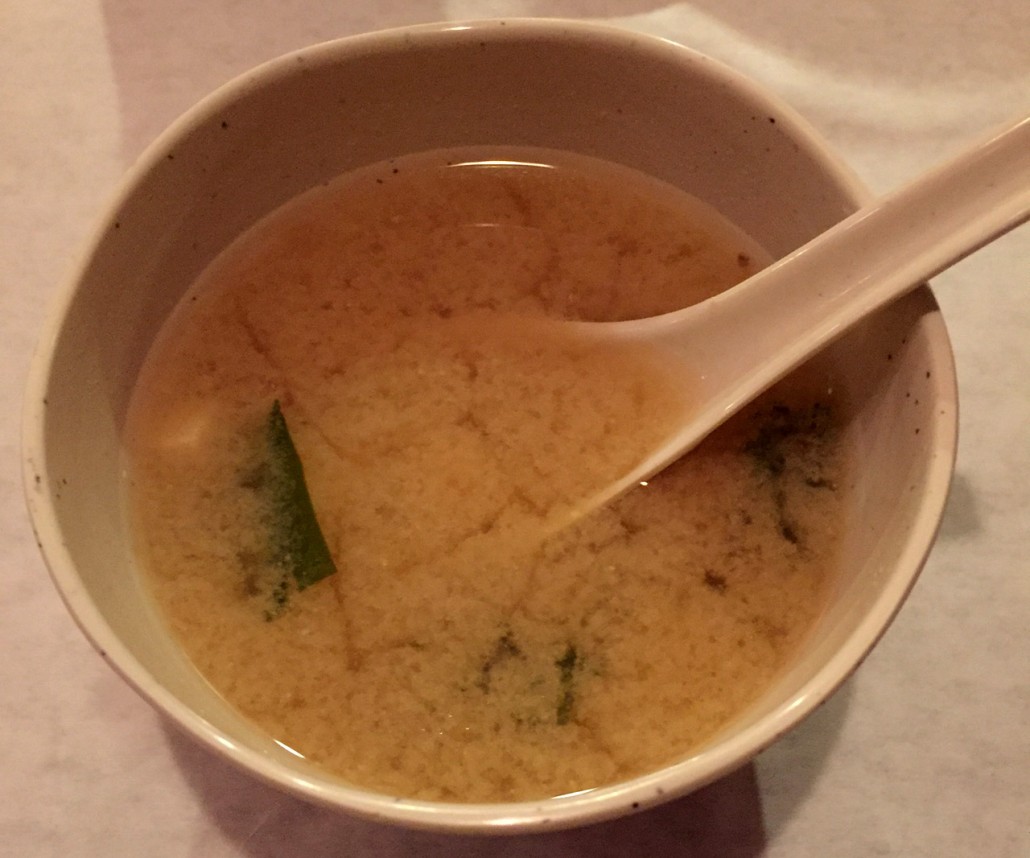 Here's the complimentary edamame:
This is Tako-Su – a Japanese octopus salad that we ordered as an appetizer: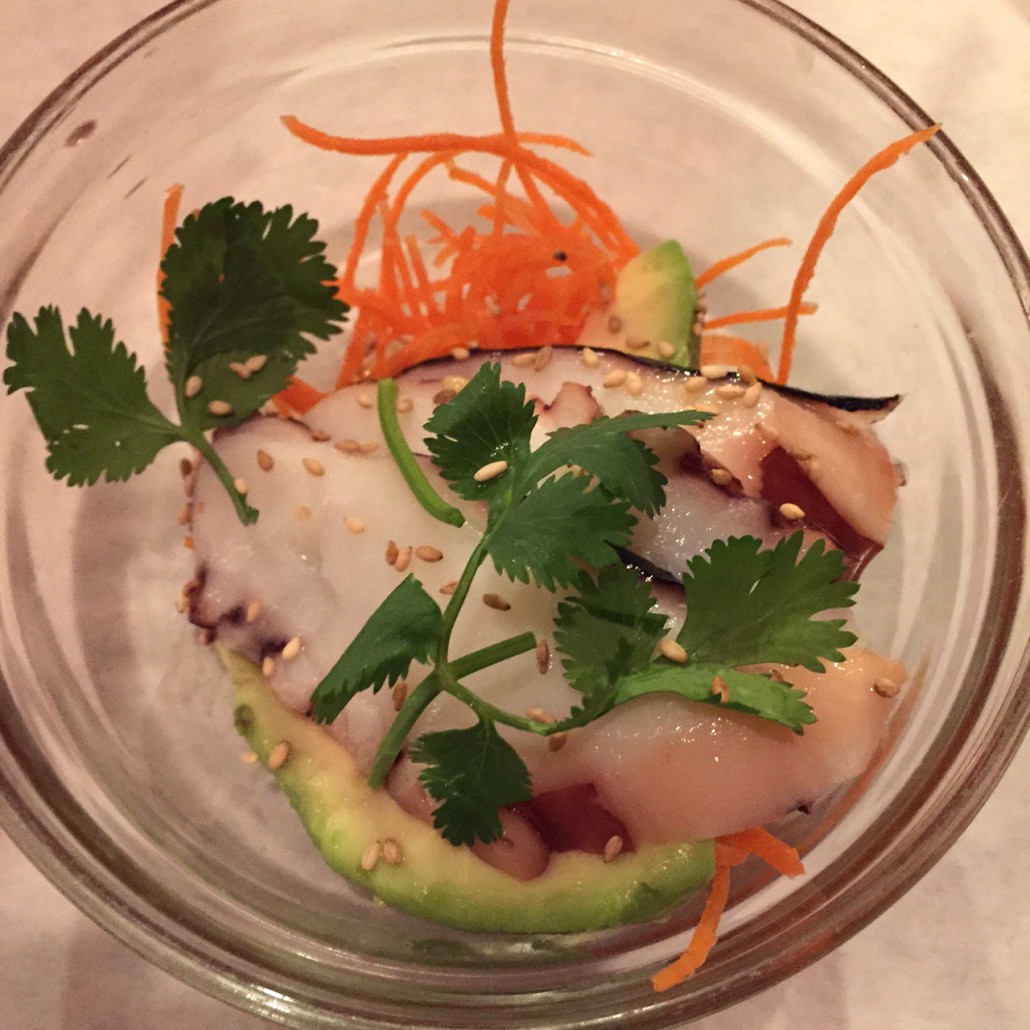 And here comes the sushi!  Clockwise from top left corner: Mojito Lime roll, California roll, Salmon roll and Holy Crab roll.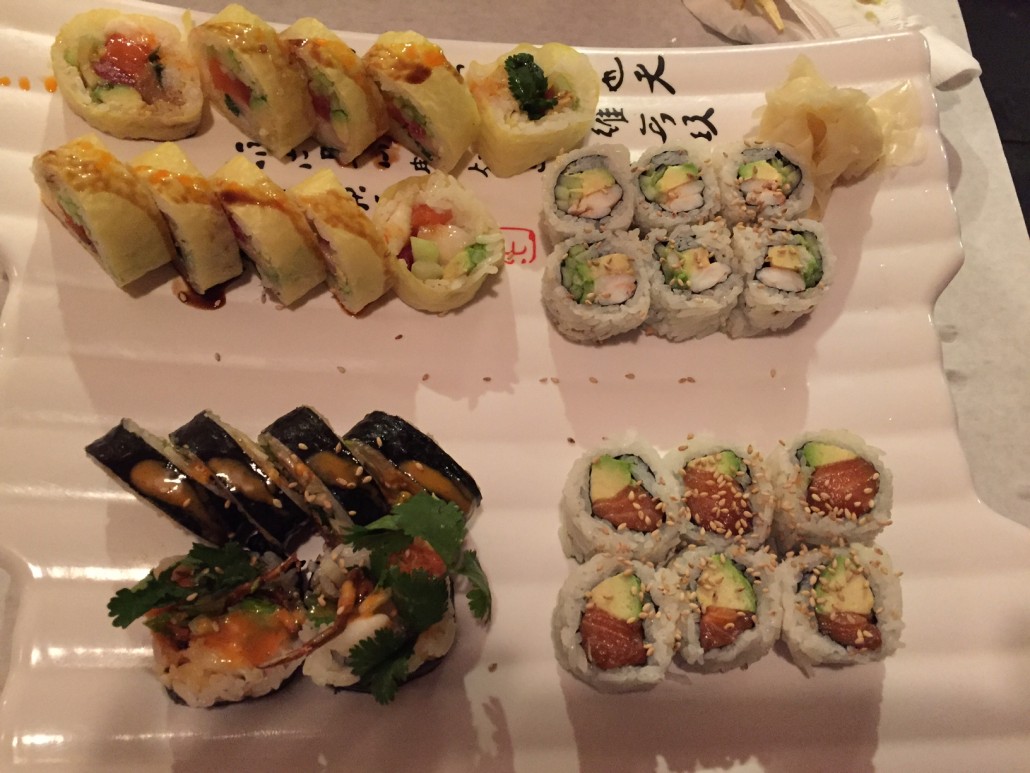 Red Dragon Roll and Sexy Lady Roll: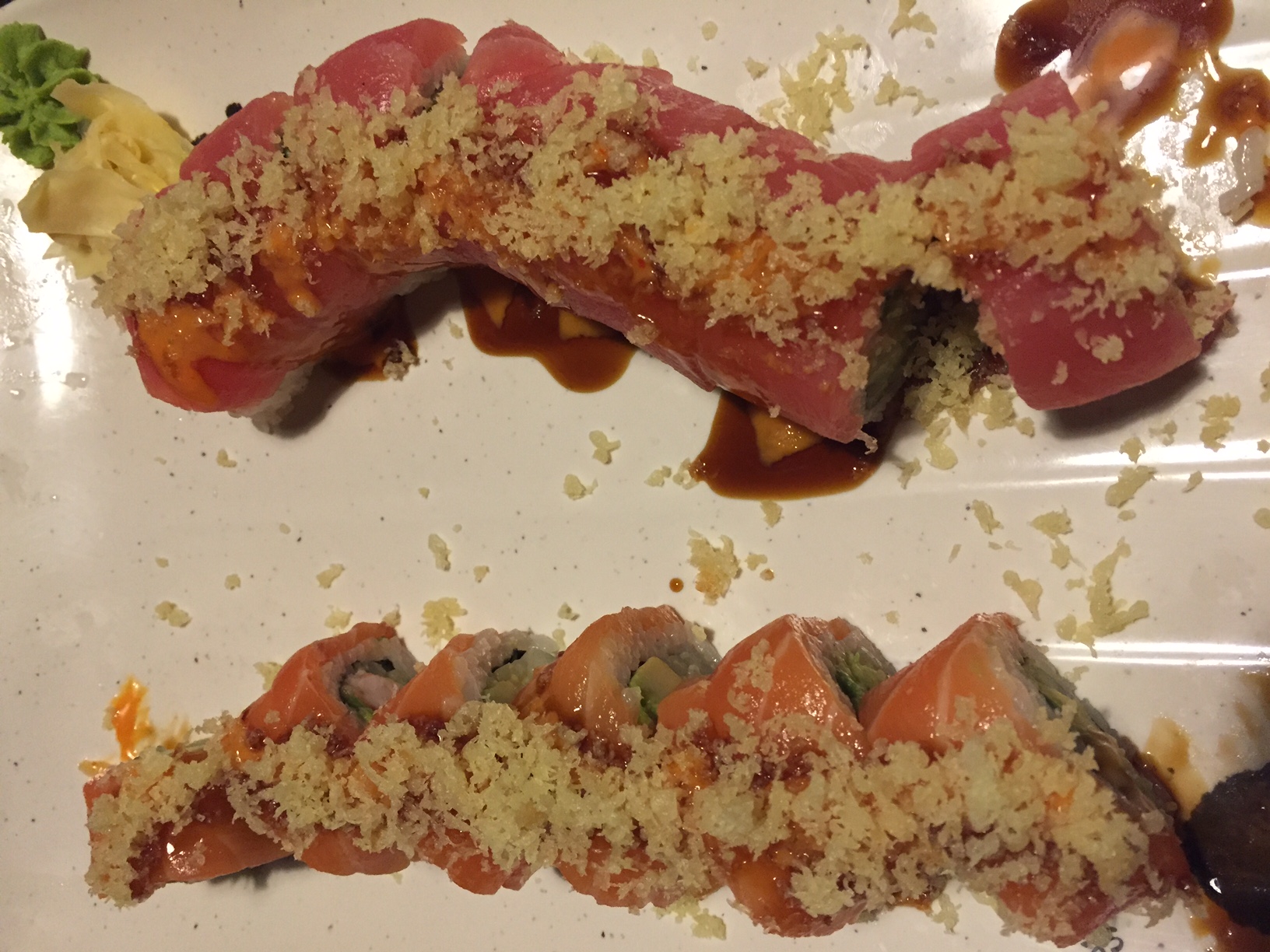 Mojito Lime Roll and Zombie Roll: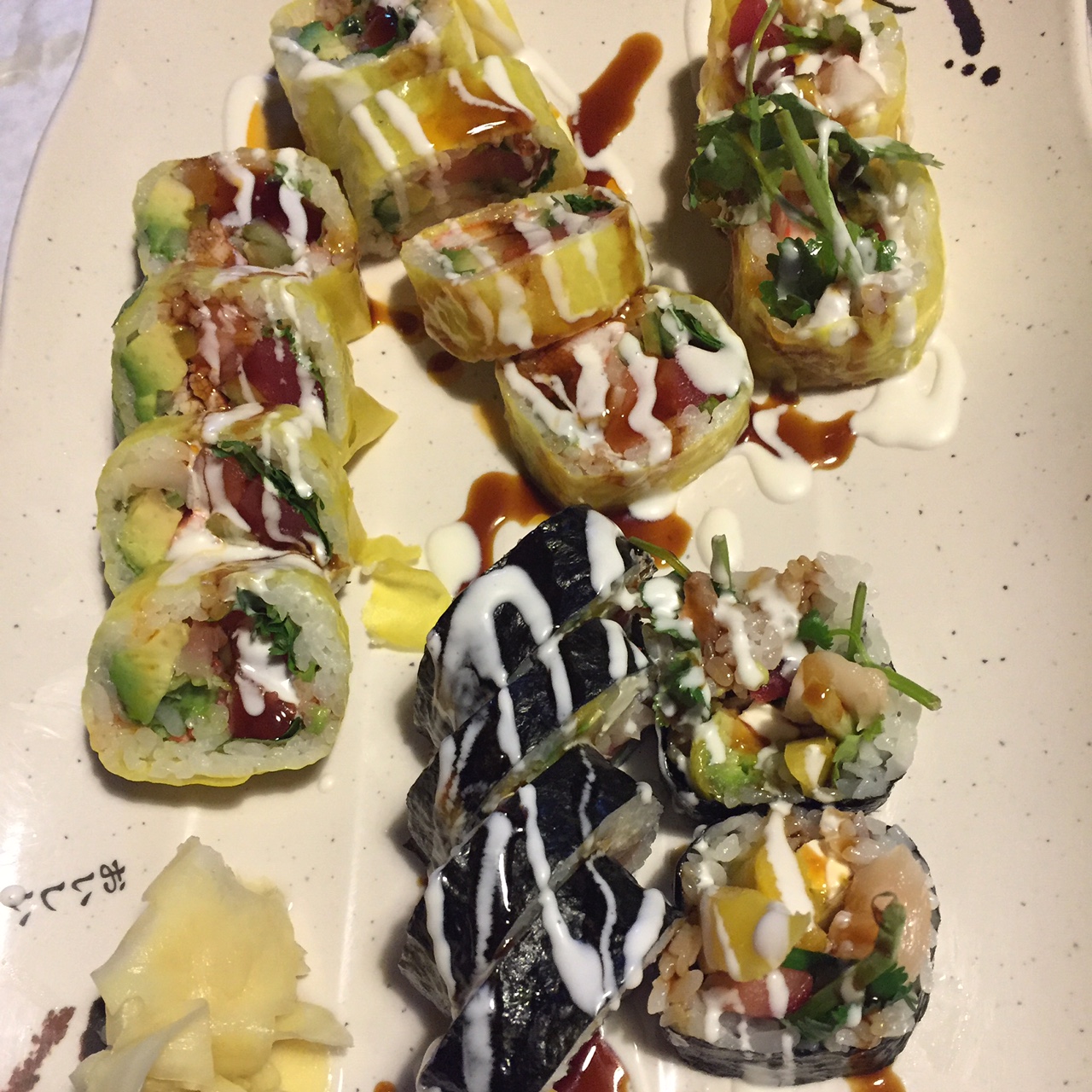 If you are looking for a place to get city-style sushi without venturing into the city itself, you must try Hakuya Sushi restaurant.  Hakuya Sushi is located at 161 W Dundee Rd, Buffalo Grove, IL 60089, and their phone number is (847) 537-7707.
Get Melanie's FREE Recipes In Your Inbox!
http://www.melaniecooks.com/wp-content/uploads/2016/01/hakuya_sushi_restaurant_chicago6b.jpg
1280
1280
Melanie Mendelson
http://www.melaniecooks.com/wp-content/uploads/2015/11/logo-new2.png
Melanie Mendelson
2016-01-15 15:51:55
2016-01-16 13:00:23
Hakuya Sushi Restaurant Review (Buffalo Grove IL, Chicago Suburbs)