Hot melted yellow cheese oozing out of crispy warm sandwich with beautiful grill marks!  Imagine biting into this grilled cheese panini sandwich - crunch!  Taste the warm cheese! How fast do you think this crispy yum would disappear?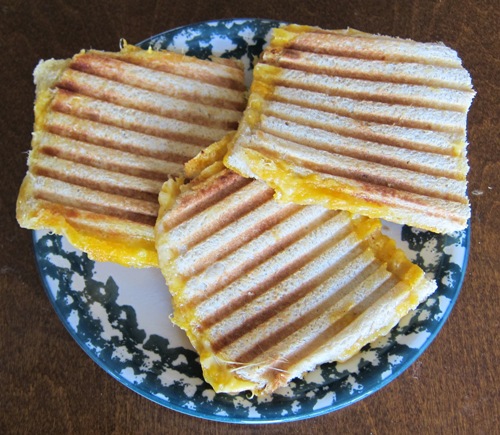 Here are the reasons why a grilled cheese panini sandwich is a great sandwich recipe:
1) It requires just 2 ingredients – bread and cheese!  These ingredients are so common and readily available – most of us have bread and cheese on hand at all times, so we can make a grilled cheese panini for lunch!
2) It's very kid-friendly – even the pickiest eaters love grilled cheese sandwiches!
3) It takes less than 5 minutes to make – just put a slice of cheese between 2 bread slices, pop it in a panini press and in 2 minutes your grilled cheese panini is ready!
Ingredients For Grilled Cheese Panini Sandwich:
2 slices of bread
1 slice of cheese
Mustard OR jam (optional)
Directions How To Make Grilled Cheese Panini Sandwich:
Preheat the panini press.
You can cut off the bread crust or leave it – whichever way you like it better!
Spread the bread slices with mustard OR jam (this step is optional).  Your grilled cheese can be plain (don't spread the bread with anything), tangy (spread with mustard) or with a hint of sweetness (thinly spread with jam).  Which taste you make it is up to you :)
Put a slice of cheese on top of a bread slice, then cover with the second bread slice.  Put the sandwich in a panini press and grill for 1 minute or until the cheese is melted and the sandwich has the brown grill marks.
Enjoy your grilled cheese panini!