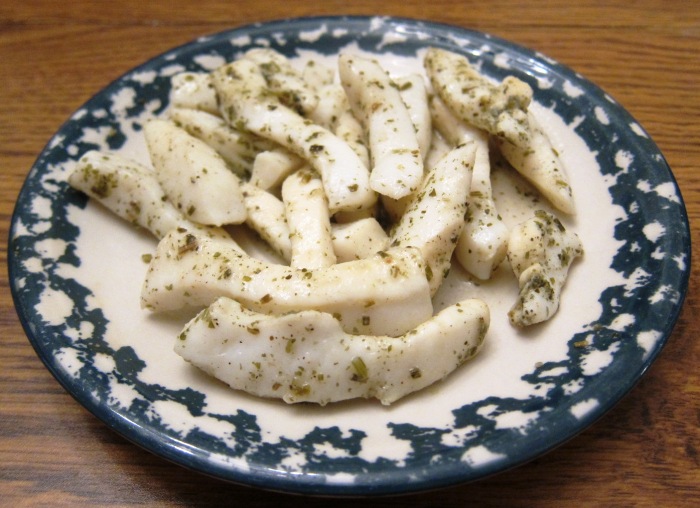 If you like calamari, you don't have to go to a restaurant to eat it – you can easily cook calamari yourself.  Calamari is so easy to make at home – it takes less than 3 minutes to cook on a frying pan.  That's faster than heating up a frozen dinner!
I buy calamari at Whole Foods, and surprisingly it's very reasonably priced – they sell calamari steaks for $2.50 each, and two of them is enough for a main dish, so that's only $5 for a dinner serving of calamari.  Compare it with how much you'd pay for grilled calamari at the restaurant 🙂
If you are wondering why calamari on my picture is not shaped like typical calamari rings, it's just how this calamari is sold.  But be assured it tastes the same no matter how you slice it 🙂
The calamari is, in fact, a squid with the body and tentacles.  The rings are made by slicing the body of the squid crosswise.  Whole Foods sells calamari steaks, which is the body of the squid sliced in half to make a patty shape.  What I do is I slice those calamari steaks into long pieces to make the shapes that you see on the picture.
Technical this calamari is not grilled (as it's not cooked on a real grill), but sauteed on a frying pan.  However, it tastes just like the grilled calamari from a restaurant, so I'm calling it "grilled calamari"!

Grilled Calamari Recipe - How To Cook Calamari
Ingredients
4 calamari steaks, sliced into pieces (or you can use calamari rings and tentacles)
1 tbsp olive oil
2 tsp garlic, minced
½ tsp Italian herb seasoning
Instructions
Heat the oil in a large non-stick frying pan over medium-high heat.
Add the squid and cook, stirring occasionally, for 2 minutes, or until completely opaque.
Add minced garlic and Italian herb seasoning and cook, stirring constantly, for 30 seconds.
Remove the calamari from the frying pan and serve immediately
Enjoy this delicious grilled calamari!  Don't you love it how even though calamari sounds so exotic, it's quicker and easier to cook than chicken 🙂  Also, check out how to cook scallops – it's just as easy as calamari.  Yum!
http://www.melaniecooks.com/wp-content/uploads/2014/02/calamari.jpg
508
700
Melanie Mendelson
http://www.melaniecooks.com/wp-content/uploads/2015/11/logo-new2.png
Melanie Mendelson
2014-02-14 12:09:35
2016-03-05 15:17:40
Grilled Calamari Recipe - How To Cook Calamari