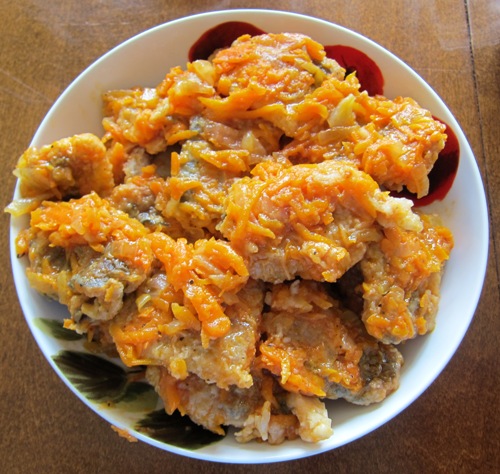 This unusual fish recipe tastes very delicious.  The fish is first dredged and flour and pan fried, then simmered in the tomato sauce with fried onions and shredded carrots.  It was passed down to me by my grandmother and she called it "Greek Fish".  I don't know if this recipe is really authentic Greek recipe, but that's how I know this fish, so I'll call it Greek Fish recipe with grilled vegetable tomato sauce 🙂
Greek Fish Recipe With Grilled Vegetables Tomato Sauce
Greek Fish Ingredients
2 lbs white fish or tilapia fillets
3 onions
3 carrots
1/2 cup flour
2 cans (8 oz each) tomato sauce
2 tbsp oil
1 tbsp sugar
Salt and pepper
Instructions How To Make Greek Fish
Put the flour on a large plate. Heat 1 tbsp of oil on a large non-stick frying pan over medium-high heat.
Sprinkle the fish evenly on both sides with 2 tsp salt and 1/4 tsp pepper. Dip the fish fillets into the flour on both sides, so the fish is evenly dredged in flour.
Put the fish fillets on a frying pan in a single layer so the fish is not touching. Cook for 3 minutes on one side, then flip and cook for 3 minutes on another side. Remove the cooked fish from the frying pan.
Peel the onions and slice them into half rings. Peel the carrots and shred them using the food processor shredded blade or a box grater.
Heat another 1 tbsp of oil in a large non-stick frying pan over medium-high heat. Add the onions and carrots and mix. Reduce heat to medium and cook, stirring periodically, for 5 minutes. Add 1/2 tsp of salt and 1/8 tsp pepper. Taste to see if there is enough salt and add more salt if necessary. Remove the cooked carrots and onions from the frying pan.
Put half of the fish on the bottom of a non-stick heavy-bottomed pot. Put half of the carrots and onions over the fish. Put the remaining fish in the pot as a second layer. Put the remaining carrots and onions on top.
Mix the tomato sauce with the sugar. Pour the tomato sauce over the fish and vegetables. Add enough water so it barely covers the top vegetables. Bring to a boil, then reduce heat to low, cover and simmer for 20 minutes.
This fish tastes great hot or cold! If served immediately, I eat it hot, and whatever is left for the next day I serve cold straight from the refrigerator. The cold version of this Greek fish tastes very unique – even if you never tried cold fish recipes before, give it a try – it's delicious!
If you are looking for more yummy fish recipes, check out easy homemade gefilte fish recipe, crispy breaded fish recipe and salmon teriyaki recipe.
http://www.melaniecooks.com/wp-content/uploads/2011/06/fish-vegetables-sauce.jpg
474
500
Melanie Mendelson
http://www.melaniecooks.com/wp-content/uploads/2015/11/logo-new2.png
Melanie Mendelson
2012-11-17 14:33:42
2012-11-17 14:35:23
Greek Fish Recipe With Grilled Vegetables Tomato Sauce