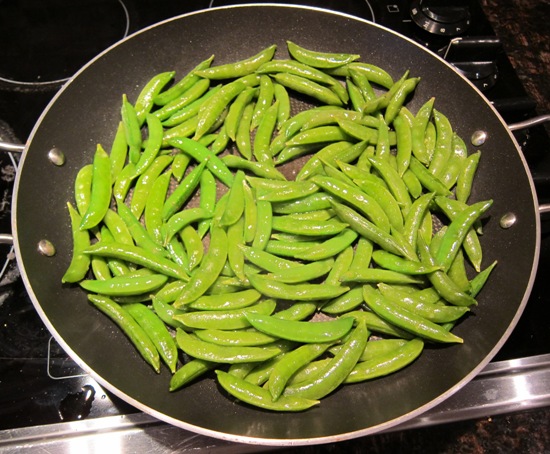 Garlic sugar snap peas is a very easy side dish recipe.  To make garlic sugar snap peas, all you need to do is to pan fry the sugar snap peas with a little bit of oil, then add minced garlic, salt and pepper at the end.
For best results, make sure you don't overcook the peas – the sugar snap peas should still be crispy.  Overcooked peas will be limp and soggy, and you certainly don't want that 🙂 When it comes to cooking the sugar snap peas, it's better to err on the undercooked side!
Garlic sugar snap peas are delicious hot or cold.  If cooking right before dinner, I serve them hot.  If there are leftovers, just store them in refrigerator and serve them cold the next day.
Garlic Sugar Snap Peas Recipe
Ingredients
1 lb sugar snap peas
2 garlic cloves, minced
1/4 tsp salt
1/8 tsp pepper
1 tbsp oil
Instructions How To Make Garlic Sugar Snap Peas
Heat the oil in a non-stick frying pan over medium high heat.
Add the sugar snap peas and cook, stirring, for 2 minutes.
Add minced garlic, salt and pepper and cook, stirring for 1 minute.
Remove the garlic sugar snap peas from heat and serve.
For more healthy vegetable recipes, see cauliflower side dish recipe, broccoli side dish recipe and collard greens side dish recipe.
http://www.melaniecooks.com/wp-content/uploads/2013/01/garlic-snow-peas.jpg
454
550
Melanie Mendelson
http://www.melaniecooks.com/wp-content/uploads/2015/11/logo-new2.png
Melanie Mendelson
2013-01-07 07:45:41
2013-01-07 07:45:53
Garlic Sugar Snap Peas Recipe