This garlic BBQ chicken recipe is a 3-ingredient recipe, and it's very easy and tasty.  The 3 ingredients are: (1) chicken (2) garlic (3) barbeque sauce!  All you need to do is to rub the chicken pieces with minced garlic and barbecue sauce, then put the chicken in the oven and the oven does all the work!  For the BBQ sauce, I like to use bottled barbecue sauce "Sweet Baby Ray's" brand.
Garlic barbecue oven roasted chicken recipe really takes just 5 minutes of work, and you get a tasty crowd-pleasing main dish! While the chicken is being roasted in the oven, the smell is mouthwatering – the garlic BBQ smell will make you so hungry, that you just can't wait to taste the piping hot garlic BBQ chicken right out of the oven!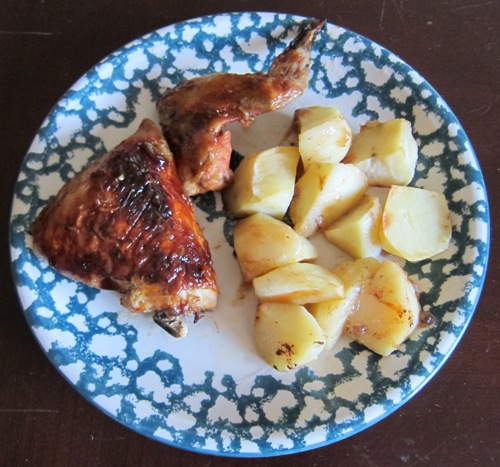 Garlic Barbeque Oven Roasted BBQ Chicken Recipe
Preparation time: 5 minute(s)
Cooking time: 1 hour(s)
Number of servings (yield): 4
Ingredients
1 cut-up chicken
8 garlic cloves, minced
1/2 cup bottled BBQ sauce
1 tsp salt
1/2 tsp pepper
Instructions
Preheat the oven to 400F.
Line the baking sheet with parchment paper.
Sprinkle the chicken pieces evenly with salt and pepper on both sides.
Rub the chicken pieces with minced garlic on both sides.
Distribute the BBQ sauce all over the chicken pieces on both sides.
Put the chicken pieces on the baking sheet.
Put in the oven and bake for 1 hour.
Enjoy your yummy garlic BBQ chicken!
Tip: you can also throw in some potatoes with the chicken before it goes in the oven, and you'll get some super-tasty roasted potatoes as your side dish!
http://www.melaniecooks.com/wp-content/uploads/2012/06/garlic-bbq-chicken.jpg
467
500
Melanie Mendelson
http://www.melaniecooks.com/wp-content/uploads/2015/11/logo-new2.png
Melanie Mendelson
2012-06-19 09:38:01
2013-11-13 13:16:57
Garlic Barbecue Oven Roasted BBQ Chicken Recipe