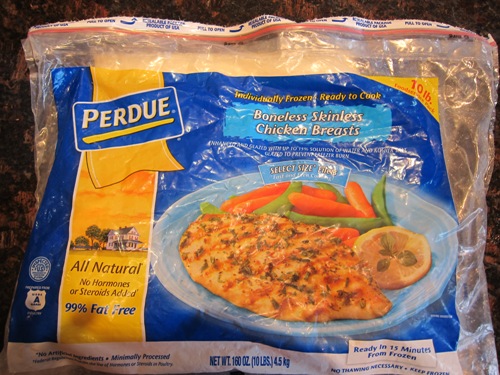 In Costco, I recently bought this package of frozen skinless boneless chicken breasts of Perdue brand.  This is a huge 10 lb package, but the size of the Costco package is not a problem since the chicken breasts are individually frozen, so they are not stuck together.  Just put the bag in your freezer and take out as many chicken breasts at a time as necessary.
A great thing about these Costco chicken breasts is that they are pretty thin and are of uniform size.  This makes these chicken breasts cook quickly and evenly.
Another great thing is that you don't need to thaw them.  You can cook them from their frozen state – just put the frozen chicken breast on the hot frying pan, cook for about 5 minutes, then flip and cook on the other side for another 5 minutes or so, until the chicken breast is done (no longer pink in center when it's cut).
I've always thawed chicken breasts before, so I was pretty skeptical when I read on the package that you don't need to defrost them.  However, I tried cooking them from frozen, and it worked great!  Because these chicken breasts are so thin, they cook really quickly, and the results of cooking them from frozen state are no different then cooking them after defrosting first.
The best part is that even though these chicken breasts are frozen, they don't have any "freezer taste".  I use these frozen chicken breasts to make chicken salad, chicken stir-fry and other dishes where chopped chicken is added, and it tastes great!
The time savings with the frozen Perdue chicken breast from Costco are significant.  You don't have to make any extra trips to the store to get the fresh chicken breast, you always have the chicken breast available, plus you don't need to thaw the chicken.  If you want to make some impromptu chicken salad, all you need is the frozen chicken breast, egg and mayo 🙂  Click here for my very easy chicken salad recipe
Here's the picture of the Perdue chicken breast from Costco COOKED from the frozen state: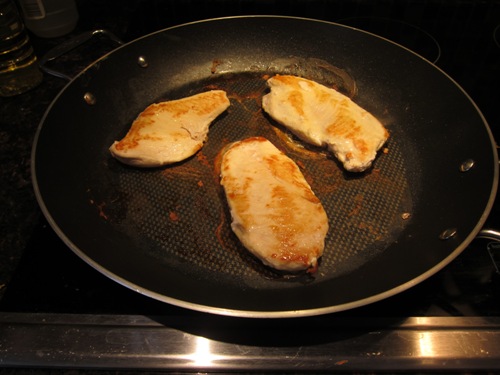 http://www.melaniecooks.com/wp-content/uploads/2011/10/perdue-costco-chicken.jpg
375
500
Melanie Mendelson
http://www.melaniecooks.com/wp-content/uploads/2015/11/logo-new2.png
Melanie Mendelson
2011-10-23 19:04:05
2011-10-23 19:07:04
Frozen Perdue Chicken Breasts From Costco