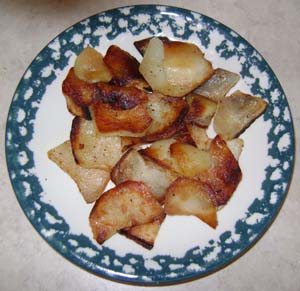 Ingredients:
7 medium potatoes
2 tbsp oil
Salt and pepper to taste
Directions:
Peel the potatoes.  Cut the potatoes in half lengthwise, then slice into very thin slices (as thin as you can).
Heat the oil in a large non-stick frying pan over medium-high heat.  Add the potatoes.  Don't stir them for 4 minutes, or until the brown crust develops on the bottom.
Flip the potatoes with the spatula, so the brown side is on top and the light side is on the bottom.  Cook for 4 minutes. 
Stir the potatoes to break them up.   Reduce heat to low and cook for another 5 minutes. 
Taste the potatoes to make sure they are not raw.  If they taste undercooked, cook them some more.
Sprinkle with salt and pepper to taste.