Easy Pumpkin Cheesecake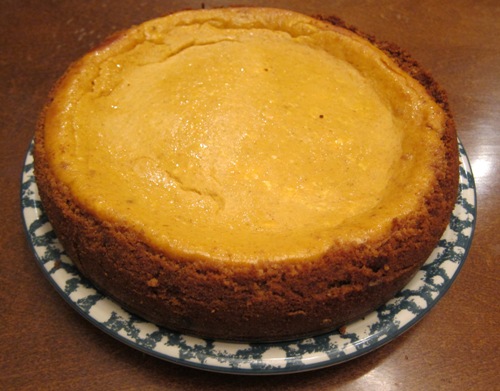 1¾ cups graham cracker crumbs
3 tbsp sugar
½ tsp cinnamon
1 stick (1/2 cup) butter, melted
3 packages (8 oz each) cream cheese, at room temperature
1 can (15 oz) pumpkin puree
3 eggs + 1 egg yolk
¼ cup sour cream
1½ cup sugar
1 tsp vanilla
1 tsp cinnamon
⅛ tsp nutmeg
2 tbsp flour
Preheat oven to 350F. Put a pan of water in the oven on the bottom shelf (this is to create humidity in the oven to cut down on the cracking of the cheesecake) and keep it there the whole time while the cheesecake is baking. Spray the 9-inch non-stick springform pan with non-stick cooking spray.
Make the crust: Mix graham cracker crumbs, sugar and cinnamon. Add melted butter and mix until combined. Press the crust into the sprinform pan and set aside.
Make the filling: In a large bowl, put cream cheese, pumpkin puree, eggs, sour cream, vanilla, sugar, spices and flour. Mix together with a mixer until the mixture is evenly colored and smooth.
Pour the filling into the crust. Put in the oven and bake for 1 hour.
Remove the pumpkin cheesecake from the oven and let rest for 1 hour to cool down. Cover with plastic wrap and refrigerate for at least 4 hours (or overnight).