Easy No-Chill Pinwheel Swirl Sugar Cookies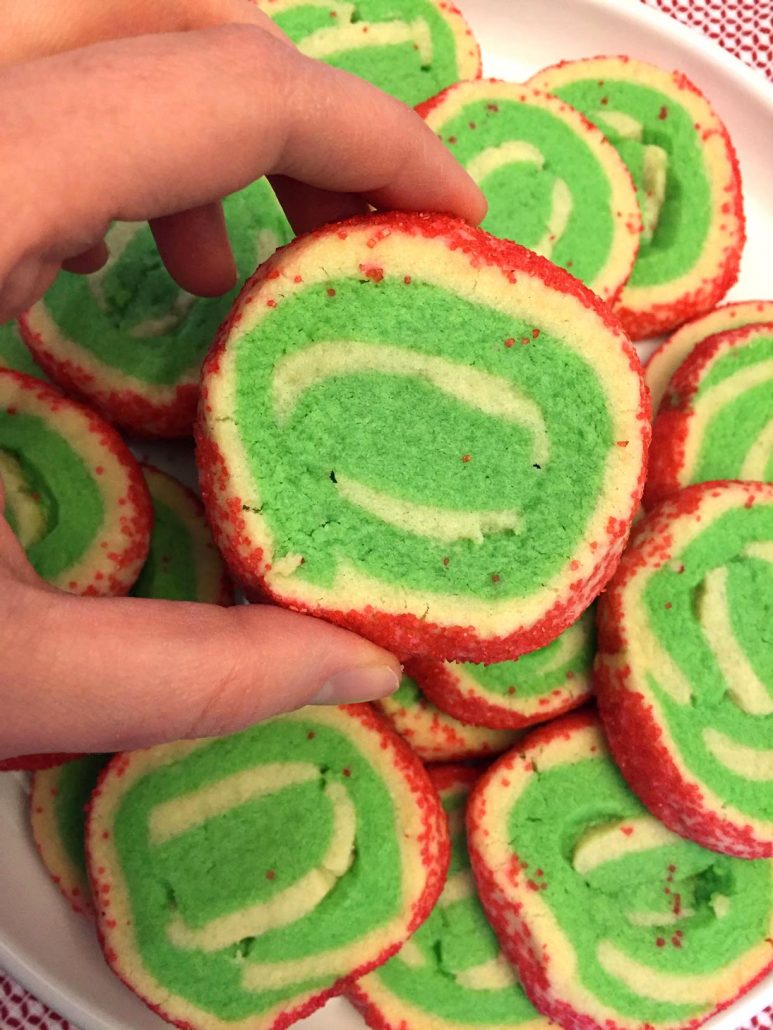 Recipe type:
Dessert,Cookie
1 cup (2 sticks) butter, softened
1 cup sugar
1 tsp vanilla
1 egg
2 tsp baking powder
3 cups flour
1 tsp green food coloring
¼ cup red sugar sprinkles
Preheat the oven to 350F.
Put butter and sugar in a food processor fitted with a dough blade or steel blade and process for 1 minute or until smooth.
Add egg and vanilla and process for 30 seconds or until smooth.
Add flour and baking powder and process for 2 minutes or until it turns into dough.
Remove the dough from the food processor and divide into 2 equal parts.
Put 1 part of the dough back into the food processor and add green food coloring to it. Process for 1 minute or until the dough color is uniformly green.
Put white and green dough on separate sheets of parchment paper and flatten into disks.
Roll white and green dough into a rectangle shape the size of 8x11 inches (same as a standard sheet of paper - use the paper as a guide for the dough size). Use your hands to help shape the dough into the rectangle, especially the corners. If the dough breaks, just fix it by pinching it together with your fingers.
Using the parchment paper to help you, turn out the green dough and put it on top of the white dough (the dough part touching), so they are directly on top of each other. Peel off the top parchment paper.
Roll the dough into a tight log (roll the long side of the dough). Don't worry if the dough breaks - just keep pressing and rolling. When the log is ready, pinch the edge of the dough to seal.
Put the red sugar sprinkles on a large plate. Put the dough log on top of the sprinkles and roll it around so it's completely covered in red sugar.
With a large serrated knife, carefully cut off the ends of the log so the sides of the log are even.
Line 2 baking sheet with parchment paper.
With a large serrated knife, carefully slice the log into ¼ inch cookie rounds and place them on the baking sheet at least 1 inch apart.
Put the spiral cookies in the oven and bake for 10 minutes.
Take the cookies out of the oven (they will seem too soft and undercooked) and let cool completely. After they cool, they will harden into a perfect textured pinwheel cookie!
If you don't have a food processor, you can use a mixer. If the dough becomes too stiff for the mixer, finish kneading the dough by hand.
Recipe by
Melanie Cooks
at http://www.melaniecooks.com/pinwheel-spiral-swirl-sugar-cookies/11049/