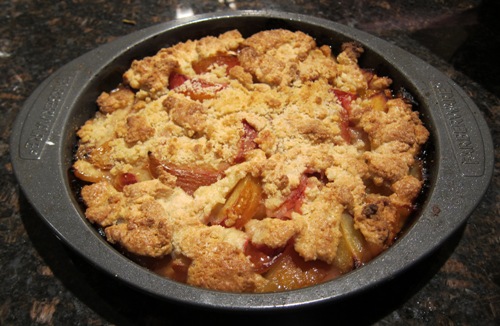 When plums are in season, it's a perfect opportunity to make this easy plum pie dessert!  Even if you are not an experienced baker, this easy plum pie recipe will turn out perfect!
There are only 5 ingredients in this plum pie.  How many pie recipes have you seen with so few ingredients?  Well, everything genius is simple :)  5 yummy ingredients is all you need to make an outstanding plum pie.
What makes this plum pie recipe so easy is the fact that you don't need to roll out the crust.  There is no need to fumble with the rolling pin trying to roll out a perfect dough circle :) The pie crust in this recipe is the dough simply pressed into a baking pan with your fingers.
This plum pie is a perfect combination of the sweet and sour taste of plums and a flaky buttery crust and topping.  The plum pie says "It's summer!" and the taste makes you smile.
Easy Plum Pie Recipe
Preparation time: 15 minute(s)
Cooking time: 45 minute(s)
Ingredients:
8 medium plums
2 cups flour
3/4 cup sugar
1 1/2 sticks (12 tbsp) butter, cut in 12 pieces
1 egg
Directions How To Make Plum Pie:
Preheat the oven to 400F.
Put the butter, sugar, flour and egg in the food processor fitted with the steel dough blade.  Turn on the food processor and process until everything is evenly combined (about 1 minute).
Cut the plums into slices and discard the pits.
Spray the non-stick 9-inch round baking dish with a non-stick cooking spray.
Take 2/3 of the dough mixture and put it in a baking dish.  Press the dough with your fingers to form the bottom crust – the dough should line the bottom of the baking dish without any gaps.
Put the plum slices on top of the dough.  Crumble the remaining 1/3 of the dough and put those dough crumbles on top of the plums.
Put the baking dish in the oven and bake the plum pie for 45 minutes.
Remove the plum pie from the oven.  It will be very hot!  Let cool for 15 minutes.
This plum pie is delicious served warm or at room temperature.  Enjoy this plum pie – it's so yummy that it disappears very quickly!
Here are some more pictures of the easy plum pie:
Here's what's left of the pie right after the family digs in :)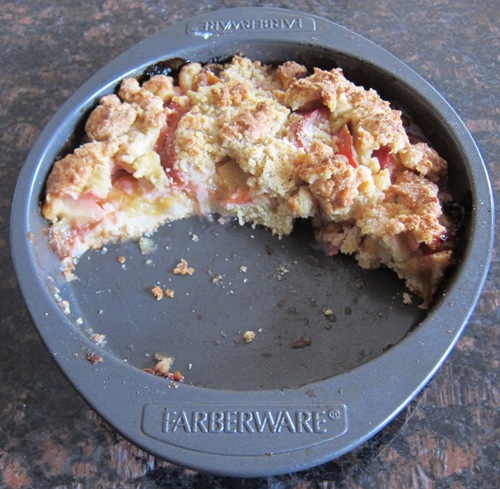 Closeup of the plum pie: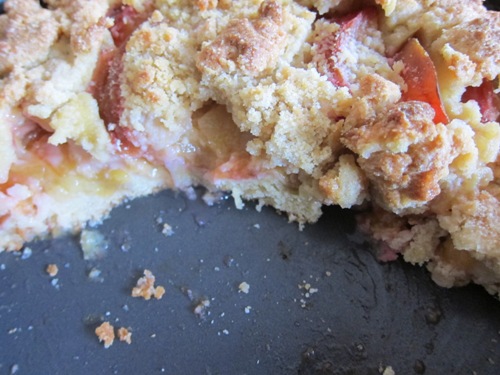 And here's the picture of the plum pie slice: