This easiest 3-ingredient chicken salad recipe is one of my go-to recipes whenever I don't know what to make for lunch.  This chicken salad needs just 3 ingredients – chicken, eggs and mayo.  These ingredients for the easy chicken salad are almost always available in my refrigerator!
For the chicken you can use leftover cooked chicken, packaged chicken strips or frozen boneless chicken breasts or thighs.  If using frozen chicken, just defrost it in a microwave and cook in a frying pan for 5 minutes on each side or until cooked through.
I like to use this easy chicken salad as a filling for a chicken salad sandwich.  Just spread a thick layer of the chicken salad on a piece of bread and top with another piece of bread.  This chicken salad sandwich is a really filling lunch!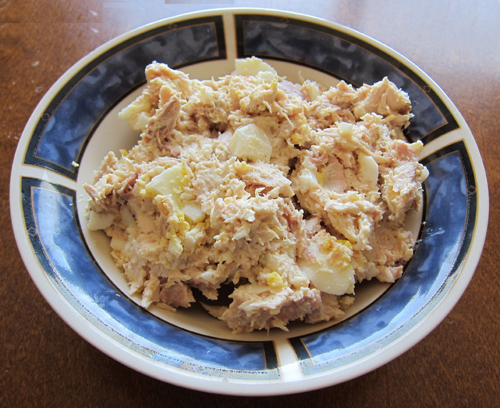 Ingredients For The Easy Chicken Salad Recipe:
1  chicken breast, cooked
1 egg, hard-boiled
2 tbsp mayo
Salt and pepper to taste

Directions How To Make Easy Chicken Salad:
With a food processor fitted with a slicer blade that goes on top, slice the chicken and eggs.  It's very important to use the top slicer blade and NOT the usual blade that's inside the processor – the chicken should be in pieces, not ground into a paste!  If you'd rather not use the food processor, you can also chop the chicken into small pieces with a knife, and mash the egg with a fork.
Put chopped chicken and egg in a bowl and add mayo.  Mix with a spoon.  Add salt and pepper to taste.  Enjoy this easy chicken salad!