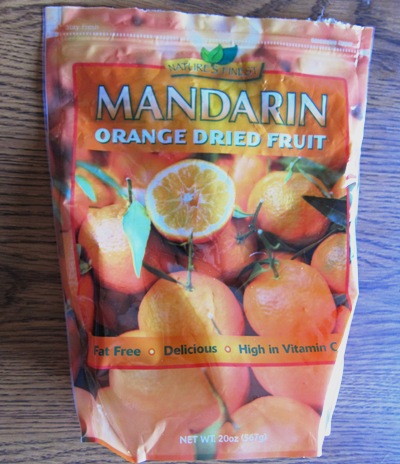 Dried orange slices are extremely tasty.  They have such concentrated orange taste!  If you like citrus, you will love chewing these dry mandarin oranges for a burst of orange flavor in your mouth!
I bought this package of dried mandarin orange slices at Costco.  The brand of these dried oranges is Nature's Finest and the package size is 20 oz.  Here's the description of these dry orange slices from the package:
"Nature's Finest Dried Mandarin Oranges are delicious bite size snacks!  You can put them in your cereal, salad, yogurt or eat them alone as a healthy fruit snack.  The succulent and natural taste of the orange comes from being grown in rich soil and prime ecological conditions.  Nature's Finest Mandarin Oranges also have antioxidants like being High in Vitamin C.  You get nothing but the highest quality of foods form Nature's Finest so please enjoy our mandarin oranges today!"
Here's the nutritional information for these dried oranges from Costco: serving size 1/4 cup, 100 calories, zero fat, zero cholesterol, 35 mg sodium, 26 g total carbohydrate, 1 gram of fiber, 21 g sugar, zero protein, 20% vitamin C, 2% calcium, 2% iron.  These yummy dried oranges are fat free and are a great source of vitamin C!
Until I saw these dried mandarin oranges in Costco, I've never seen dry oranges before!  When I saw them, I knew immediately that I had to try them 🙂  I bought these orange slices, and they turned out to be outstanding!  We ate the whole bag in a couple of days!
Here's the picture of these slices of dried oranges on a plate: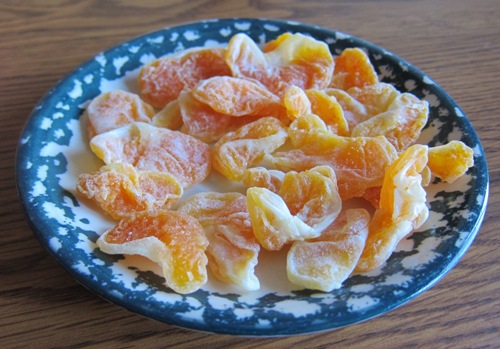 Other great dried fruit that I always buy at Costco are Costco dried mango, Mariani dried apricots and Craisins dried cranberries.
http://www.melaniecooks.com/wp-content/uploads/2013/04/dried-mandarines-oranges.jpg
464
400
Melanie Mendelson
http://www.melaniecooks.com/wp-content/uploads/2015/11/logo-new2.png
Melanie Mendelson
2013-04-10 06:35:19
2013-04-29 09:06:11
Dried Orange Slices - Dry Mandarin Oranges From Costco