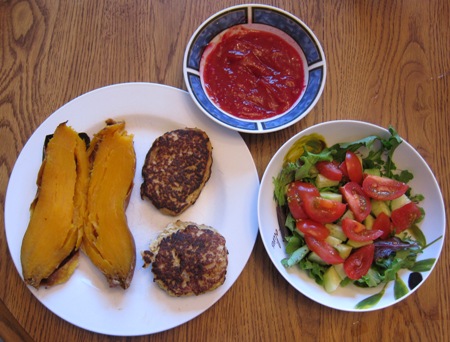 For this tasty and healthy dinner, I am serving salmon fishcakes as a main dish, oven baked sweet potato as a side dish, shrimp cocktail sauce for dipping the fishcakes and a green salad with tomatoes and cucumbers for a side salad.  What a feast!  And the best part is that this yummy dinner is really easy to put together.
Dinner Game Plan
Put the sweet potatoes in the oven
Make the salad
Make the fishcakes
Make the cocktail sauce while the fishcakes are cooking
Take the sweet potatoes out of the oven
Salmon Fishcakes Recipe
These delicious fishcakes recipe uses simple ingredients that are already in your pantry!  The salmon is canned, which makes it so convenient.  My favorite brand of canned salmon is Bear & Wolf Pink Salmon – it buy it in bulk in Costco, and it really saves money that way.  Check out my recipe for these easy and yummy fishcakes here: canned salmon fish cakes recipe.
Oven Baked Sweet Potato Recipe
Sweet potato yams are so yummy when they are baked!  They are naturally sweet, and believe it or not, sweet potatoes are actually healthier than regular potatoes!  Healthy and sweet – that's a keeper in my book 🙂  Baked sweet potatoes take no work to make whatsoever – just put them in the oven and take them out when they are done!  See my recipe here: how to make baked sweet potato yams.
Homemade Seafood Dipping Sauce Recipe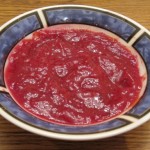 The sauce for dipping the fishcakes is most commonly known as "shrimp cocktail sauce".  Basically, it's a mixture of ketchup and horseradish!  They sell it in bottles in any grocery store, but you can easily make your own by simply adding a few teaspoons of horseradish to a cup of ketchup.  This dipping sauce is not just for shrimp – it's great with any seafood, including these salmon fishcakes!  See my recipe for homemade shrimp cocktail sauce.
Yummy Green Salad Recipe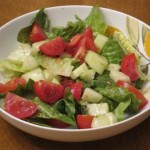 This simple salad is so healthy and tasty!  I mixed the lettuce with chopped up tomatoes and cucumbers, dressed with the Italian dressing.  Yum!  See the recipe here: lettuce, tomato and cucumber salad.
http://www.melaniecooks.com/wp-content/uploads/2013/06/dinner-sweetpotato-fishcakes.jpg
342
450
Melanie Mendelson
http://www.melaniecooks.com/wp-content/uploads/2015/11/logo-new2.png
Melanie Mendelson
2013-06-29 07:07:43
2013-06-25 11:32:17
Dinner Of Salmon Fishcakes And Baked Sweet Potato