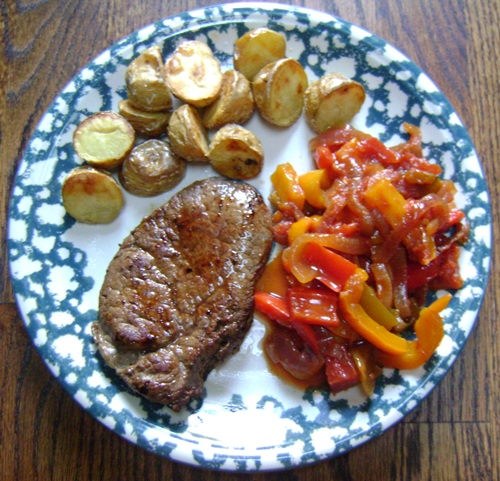 This delicious filet mignon steak dinner would cost at least $30 in a restaurant!  A good thing is that you can make it at home yourself – this homemade steak dinner is easy to make and so tasty!
I have a homemade filet mignon steak (medium-well, just as I like it), served with roasted new potatoes and sauteed peppers and onions.  What a feast!
Homemade Filet Mignon Steak Recipe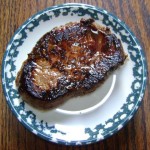 Making filet mignon at home is super easy.  All you need is the meat and the non-stick frying pan.  It takes less than 10 minutes to make this perfectly cooked filet mignon – prepared to your liking!  See my easy filet mignon recipe for detailed instructions how to cook filet mignon steak.
Roasted New Potatoes Recipe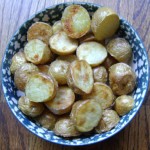 These roasted new potatoes are so tiny and tasty.   Best of all, their skin is so tender that you don't need to peel them, and that saves a lot of work!  Halve the small new potatoes, toss with olive oil and roast in a preheated oven – what an easy recipe!  For compete instructions on roasting small potatoes, check out my oven roasted new potatoes recipe.
Sauteed Bell Peppers And Onions Recipe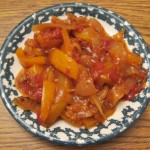 Bell peppers and onions make a very tasty appetizer or size dish.   The peppers are sauteed with onions, tomatoes and garlic, resulting in a super yummy flavor.  I make these peppers a day in advance, then serve them cold from the refrigerator the next day.   Check out my sauteed peppers and onions recipe.
http://www.melaniecooks.com/wp-content/uploads/2013/03/filet-mignon-steak-dinner.jpg
481
500
Melanie Mendelson
http://www.melaniecooks.com/wp-content/uploads/2015/11/logo-new2.png
Melanie Mendelson
2013-04-17 07:27:16
2013-04-14 14:48:26
Dinner Of Filet Mignon Steak With Peppers And Roasted Potatoes