Culver's Restaurant is a fast-food chain specializing in hamburgers.  On the picture above, it's Culver's in Wisconsin Dells, WI.  Most Culver's are located in the Midwest, but there are also some in Texas, Utah and Arizona.  I've never eaten at Culver's until I went on vacation to Wisconsin Dells.
When I went to Culver's, my expectations were low.  I just wanted a quick lunch before we drive back to Chicago from Wisconsin Dells.  I thought Culver's was the same as all those other fast food burger joints.  To my surprise, Culver's burgers were actually good!
Culver's burgers are made from fresh, never frozen beef.  Culver's hamburger is called a "ButterBurger".
According to Culver's packaging, "Culver's Original BUTTERBURGER (Recipe Number 1) – It's a Culver's family specialty and the burger that started it all.  We only use fresh, never frozen, Midwest-raised beef, seared on a grill after you order and served on a lightly buttered, toasted bun.  Add real Wisconsin cheddar and you'll know why we wouldn't change a thing."
Usually fast food burgers in the popular chains taste like processed food, but Culver's hamburgers taste like real beef.  Culver's is really a step above the other fast food burger places. I ordered the Original ButterBurger, and it was an excellent cheeseburger.
Below is the picture of my Culver's meal – The Original ButterBurger with fries: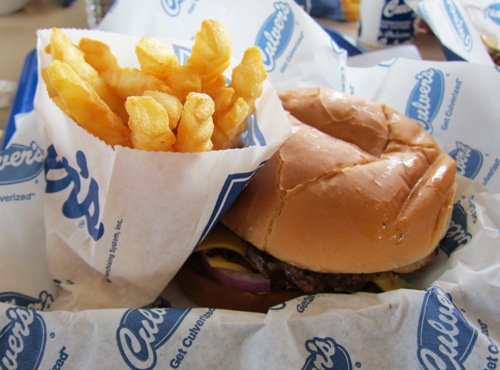 And here's a closeup of the Culver's ButterBurger in the eating process: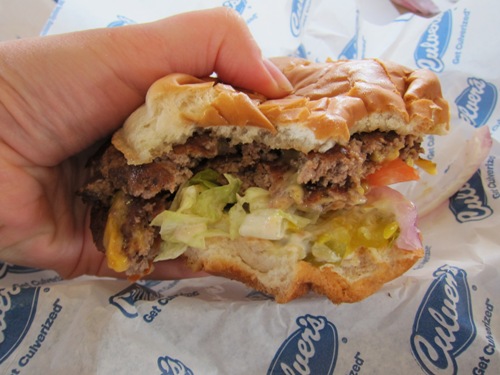 Culver's cheeseburgers have the taste of sit-down restaurant burgers at fast food prices – I like that :)
I'll be back at Culver's – I'll visit their Chicago area locations when I'm in a mood for a good quick cheeseburger.  You can find the closest Culver's location on their website at Culvers.com.