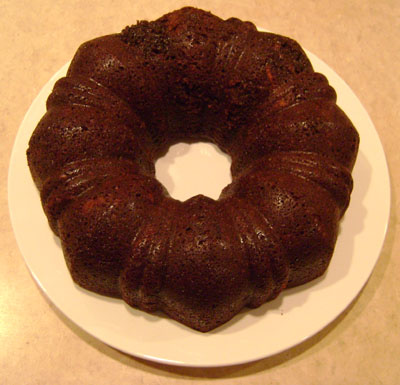 A slice of this rich chocolate bundt cake goes so well with the morning cup of coffee!
Ingredients for the chocolate bundt cake:
3/4 cup cocoa powder
1 cup chocolate chips
3/4 cup hot water
1 1/2 sticks butter, melted
1 cup yogurt
1 tbsp vanilla
5 eggs
2 cups packed brown sugar
1 3/4 cup flour
1 tsp salt
1 tsp baking soda

Directions on how to make chocolate bundt cake:
Preheat oven to 350F.
Pour hot water over cocoa and chocolate chips and stir.  Add melted butter and stir until combined.  Add yogurt and vanilla and stir until combined.
In a separate bowl, whisk eggs with sugar.  Add to the cocoa, chocolate chips, butter,  yogurt and vanilla mixture, and stir until combined.
Mix flour with salt and baking soda.  Add the flour mixture to the liquid ingredients and stir until combined and smooth.
Spray the non-stick bundt pan with non-stick cooking spray – make sure that you have coated the inside completely.  Pour the batter into the bundt pan.  Bake for 50 minutes.