Chipotle Mexican Grill is a popular fast-food chain restaurant.  Chipotle is very consistent in their menu and quality throughout their locations.  What I love about Chipotle is that it's not a typical fast food – unlike most fast food restaurants, Chipotle's ingredients are fresh and healthy!
The pictures on this page were taken at Chipotle Restaurant in Deerfield, IL (675 Deerfield Rd., Deerfield, IL 60015, (847) 948-7902).
Here's the outside of Chipotle restaurant in Deerfield.  It has an outdoor sitting area in the summer, so you can eat outside and enjoy the weather. There is only one outside table in this picture, but there is a total of about 10 tables outside – there are further to the right and around the corner on the side of the restaurant.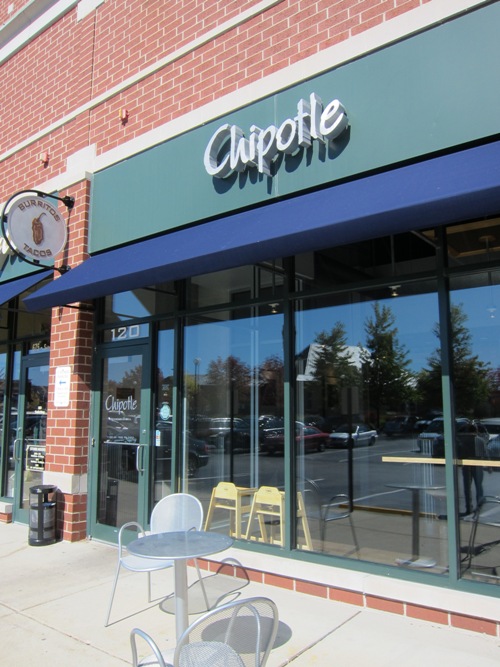 Here's what you see when you come inside Chipotle: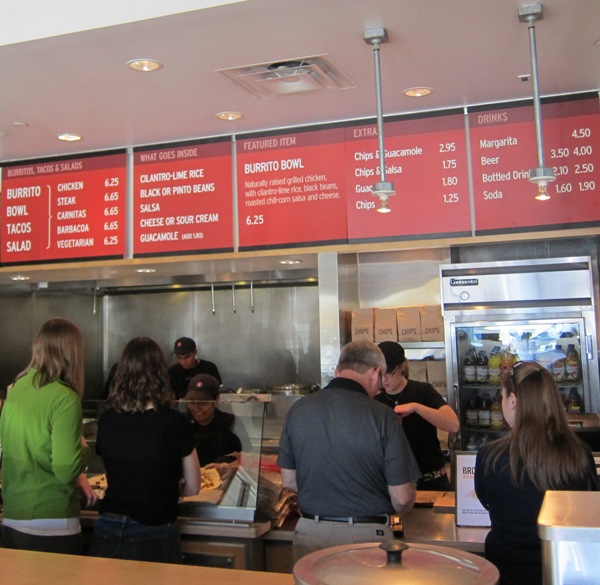 Chipotle main dish menu options are burrito, bowl, tacos and salad. The tacos can be soft or crispy – you choose.
What is the difference between Chipotle bowl and salad? The answer is that the bowl is based on rice, and the salad is based on lettuce.
The way Chipotle ordering works is that you pick a main dish and customize it by choosing which ingredients go into it.
First you pick the meat – chicken, steak, barbacoa (shredded and braised beef), carnitas (shredded and braised pork), or no meat if you select a vegetarian option.
Second, you choose the following ingredients: grilled peppers and onions, black beans or pinto beans, rice.
Next, you choose salsas and toppings: mild salsa (chopped tomatoes and onions), spicy salsa (looks like sauce), corn, shredded cheese, guacamole, sour cream and lettuce.  Note that guacamole is extra cost for non-veggie items.
In addition to the main dishes, Chipotle also has side items menu: guacamole, chips and salsas.  And of course, there are drinks.  Chipotle's iced tea is freshly brewed and is really good.  I was also surprised to see alcoholic drink options like margaritas and beer – there are not normally found in the fast food joints 🙂 But since Chipotle is not your usual fast food, and the margaritas go so well with the Mexican food – they made it happen!
Here's the picture of the Chipotle's chicken bowl: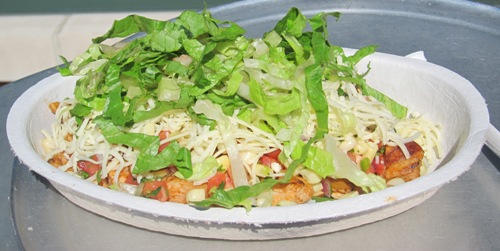 And here's the picture of Chipotle's Crispy Vegetarian Tacos: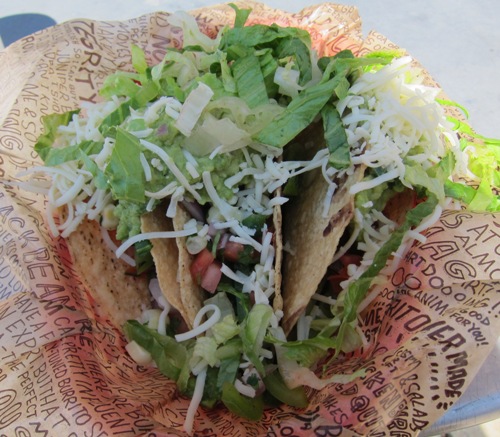 I really like Chipotle and go there very often for lunch.  If you want a quick healthy and fresh lunch, go to Chipotle – I highly recommend it!
http://www.melaniecooks.com/wp-content/uploads/2011/10/chipotle-outside.jpg
667
500
Melanie Mendelson
http://www.melaniecooks.com/wp-content/uploads/2015/11/logo-new2.png
Melanie Mendelson
2011-10-11 08:07:14
2011-10-11 08:07:14
Chipotle Mexican Grill Fast Food Restaurant Review