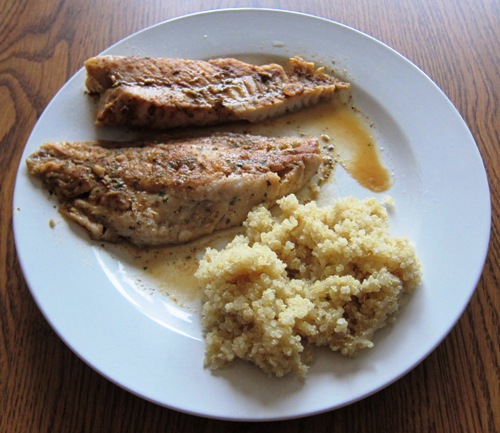 I bought this fish called Rockfish at Whole Foods, I've never seen this fish before.  The Rockfish was in a fillet form and reasonably priced, so I thought why not 🙂  What is Rockfish?  After some online searching, I learned that in the US the term Rockfish refers most often to the striped bass.
I cooked Rockfish the same way as I cook all other fish fillets – on a non-stick frying pan with a little bit of oil.  I rub the Rockfish with the Cajun spice mix before cooking, so that's why I call it a "Cajun Rockfish" 🙂  Of course, you can use any kind of spices for the Rockfish.  Just season it with your favorite spices and cook on a pre-heated non-stick pan about 4 minutes per side or until the fish flakes easily with the fork.  This Rockfish turned out delicious – it's a very tasty fish and I will be buying Rockfish again.
Cajun Rockfish Recipe
Ingredients
Rockfish fillets
Cajun spice mix
1 tbsp oil
Instructions How To Cook Rockfish
Heat the oil in a non-stick frying pan over medium-high heat.
Season the Rockfish with the Cajun seasoning on both sides.
Put the fish fillets on the frying pan so they are not touching. Cook the Rockfish for 4 minutes, then carefully flip the fillets with a spatula and cook on another side for 4 minutes, or until the fish is cooked through (it should flake easily with a fork).
On the top photo, the Rockfish is served with a side dish of quinoa – see how to make quinoa in a rice cooker.
Here's another picture of Cajun Rockfish recipe – this time it's served with a side dish of roasted potatoes and onions: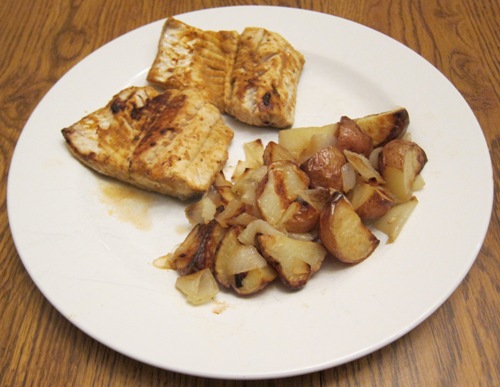 To see how I cook other kinds of fish, see my pages on how to cook sole fish, how to cook salmon, how to cook white fish.
Get Melanie's FREE Recipes In Your Inbox!
http://www.melaniecooks.com/wp-content/uploads/2012/10/rockfish.jpg
433
500
Melanie Mendelson
http://www.melaniecooks.com/wp-content/uploads/2015/11/logo-new2.png
Melanie Mendelson
2012-10-21 07:37:35
2013-02-19 10:39:37
Cajun Rockfish Recipe