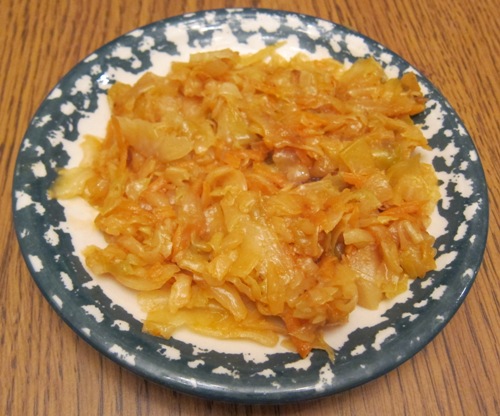 This cabbage stew recipe makes a very tasty and healthy side dish.  If you are on a low carb diet and looking for more side dish option, try this stewed cabbage!  Cabbage stew is a perfect substitute for the usual grains and starches.  Hot stewed cabbage is very comforting and very yummy, and it goes really well with meat, poultry or fish!
To make this tasty cabbage stew, first you pan-fry shredded carrots and onions, then stew the cabbage in a covered frying pan with a little bit of water.  When the cabbage is soft, add the flavorful sauce of ketchup, sugar, vinegar and pepper.  This makes a hearty tasting vegetable side dish that's so full of flavor!
Cabbage Stew Recipe
Cabbage Stew Ingredients
2 carrots
2 onions
1 tbsp oil
1 small head of cabbage
1/4 cup water
1/2 cup ketchup
1 tbsp sugar
1 tsp vinegar
1/2 tsp salt
1/8 tsp pepper
Instructions How To Make Stewed Cabbage
Shred the carrots in the food processor fitted with the shredding disk. Chop the onions.
Heat the oil in a large non-stick pan over medium-high heat. Add the shredded carrots and chopped onions and cook, stirring occasionally, for 5 minutes. Remove the carrots and onions from the frying pan into a bowl.
Cut the cabbage into large pieces and discard the core. Slice the cabbage in a food processor fitted with the slicing disk.
Pour water in a frying pan, then add sliced cabbage. Cook, stirring periodically, on medium-high heat for 5 minutes, then reduce heat to low, cover and cook the cabbage for 30 minutes.
In a cup, mix the ketchup, sugar, vinegar, salt and pepper. Add this mixture to the stewed cabbage. Add the fried carrots and onions. Mix everything, cover and cook the cabbage stew on low heat for 15 more minutes.
Enjoy this tasty and healthy cabbage stew!  For more healthy vegetable side dishes, check out how to make steamed asparagus, how to make roasted beets and easy roasted broccoli recipe.  And don't miss another great recipe to make with cabbage – stuffed cabbage rolls recipe.
http://www.melaniecooks.com/wp-content/uploads/2013/03/cabbage-sidedish.jpg
416
500
Melanie Mendelson
http://www.melaniecooks.com/wp-content/uploads/2015/11/logo-new2.png
Melanie Mendelson
2013-05-10 07:07:59
2013-07-09 15:43:58
Cabbage Stew Recipe