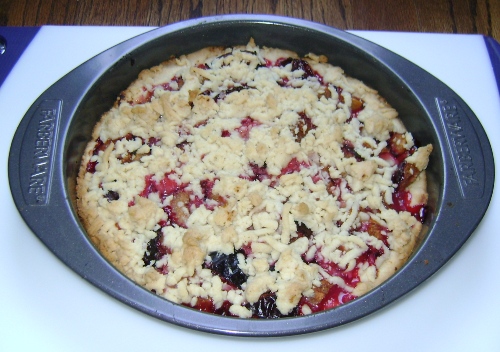 This blueberry streusel cake recipe is very tasty and easy to make, and it only uses 5 ingredients – blueberries, flour, egg, sugar, butter and optional walnuts.  The bottom crust of the cake is made by pressing the dough into the bottom of the baking pan – no rolling needed!  The top streusel crumbs are sprinkled over the blueberry filling – blueberries taste mouthwatering with the buttery streusel crumbs that melt in your mouth – it is so delicious!
Blueberry Streusel Cake Recipe
Ingredients
1 egg
1/2 cup sugar
1 stick (1/2 cup) butter, melted
2 cups flour
1/2 tsp baking powder
2 cups blueberries (fresh or frozen)
1/2 cup walnuts (optional)
Instructions How To Make Blueberry Streusel Cake
Preheat the oven to 350F.
Spray a non-stick 9-inch round baking pan with a non-stick cooking spray.
In a bowl, mix the egg, sugar, butter, flour and baking powder.
Separate 1/3 of the dough mixture and roll it into 2 balls. Put those small dough balls in the freezer.
Take the remaining dough and put it in the baking pan. Press the dough into the bottom of the pan to form a crust. Put in a freezer for 10 minutes.
Take the pan out of the freezer and put the blueberries on top of the dough crust. If using the walnuts, sprinkle them on top of the blueberries.
Take the dough balls out of the freezer. Use the box grater to grate the dough over the blueberries, creating streusel crumbs.
Put the blueberry streusel cake in the oven and bake for 40 minutes or until the streusel is golden brown.
Enjoy this delicious blueberry streusel cake! If you like baking with blueberries, also check out how to make blueberry pie, how to make blueberry muffins and bundt cake with blueberries.
http://www.melaniecooks.com/wp-content/uploads/2013/03/blueberry-cake.jpg
352
500
Melanie Mendelson
http://www.melaniecooks.com/wp-content/uploads/2015/11/logo-new2.png
Melanie Mendelson
2013-04-20 07:50:54
2013-07-09 17:33:02
Blueberry Streusel Cake Recipe