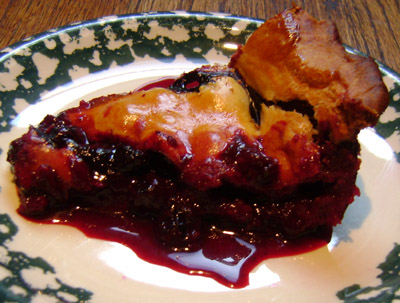 Ingredients for Blueberry Pie Recipe:
For Pie Crust:
2 1/2 cups of flour
2 tbsp sugar
1 tsp salt
2 sticks of butter, cut into pieces
1/2 cup of cold water
For Blueberry Filling:
6 cups of blueberries
1/2 cup of sugar
1/4 cup of cornstarch
Directions How To Make Blueberry Pie:
Make The Dough For The Crust:
Put flour, sugar, salt and butter in a food processor fitted with a steel blade.  Process in a food processor until everything is combined and looks like coarse crumbs.  Add water and process until combined.
Take the dough out of the food processor, divide into 2 equal parts and roll each part into a ball.  Wrap each dough ball with a plastic wrap and put in a refrigerator for 1 hour.
Assemble The Pie:
Preheat oven to 400F.
Spray the 9-inch non-stick pie pan with a non-stick cooking spray.
Roll one dough ball into a circle, large enough to cover the bottom and sides of the pie pan.
Put rolled dough in the pie pan so it covers the bottom and sides of the pan.
In a bowl, make the filling: mix blueberries, sugar and cornstarch.
Put the blueberry filling in the pie pan, on top of the bottom crust dough.
Roll the second dough ball into a circle, the diameter of the pie pan – this is the top crust.
Put the top crust on top of the filling.  Pinch together the edges of the top and bottom crusts, all the way around the pie pan, to seal the pie.  Cut several slits in the top crust (to let steam escape while the pie is baking).
Put the pie in the bottom portion of the oven.  After 20 minutes, lower oven temperature to 350F.  Bake for additional 45 minutes.
Pictures Of How To Make Blueberry Pie: