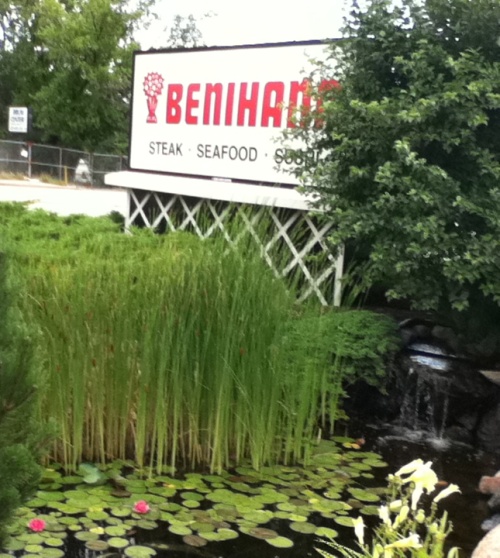 If we want sushi for dinner, we often end up in Benihana Restaurant in Wheeling (a Northwest Chicago suburb).  Benihana is located on Milwakee Avenue north of Dundee Road in the area in Wheeling knows as the "Restaurant Row".  Benihana is a chain restaurant with lots of locations, including a location Downtown Chicago.  The Benihana in Wheeling has a really nice water garden at the front.
Benihana has good quality sushi that's fresh.  The prices are good too.  If you are looking for a solid sushi place in Chicago Northwest suburbs, go to Benihana.
I usually get the Sushi combination which is 6 pieces of sushi and a california roll.  That doesn't sound like that much sushi, but it's a lot!  That's because the california roll is really big – it has 10 pieces.  Some places will give you a pathetic 6 little pieces of california roll, but Benihana's 10 pieces are plenty of california roll :)  The sushi pieces are also big - it takes me 2 big bites to eat each piece of sushi.
The sushi is salmon, tuna, shimp and the remaining 3 are also some kind of raw fish.  The sushi combo comes with miso soup and green salad with a spicy orange-color dressing.  The regular sushi combination is $13.50.  There is also a Sushi Combination Deluxe for $19.95, but the regular sushi combination leaves me really stuffed – I don't feel like I have room for any more sushi :)
Benihana is even cheaper for lunch – their lunch specials are excellent.  Benihana is really busy at lunch time, so go there when it first opens at 11:30. Everybody likes good cheap sushi, so people flock to Benihana for lunch!
The first lunch special at Benihana is "lunch boat" for $9.25 – miso soup, salad, fried chicken, shrimp tempura, sashimi and fresh fruit.  "Lunch boat" comes served in a fancy "boat" presentation.
Another lunch special in Benihana is Sushi Combination for $9.75.  You can choose your style of a sushi combination.  Choice 1 is 2 pieces of sushi with 3 rolls, choice 2 is 4 pieces of sushi with 2 rolls and choice 3 is 6 pieces of sushi with 1 roll.  Unlike most sushi combinations where you get fixed selections of sushi and rolls, you can pick your sushi with this lunch combination at Benihana!  The sushi choices on the lunch menu at Benihana are: tuna, salmon, yellow tail, shrimp, white fish, surf clam, mackerel, squid, crab stick and egg.  The rolls choices on the lunch menu at Benihana are: California roll, Phylly roll, New York roll, salmon roll, spicy tuna roll, eel roll, cucumber roll, tuna roll.
Another lunch special at Benihana is the Sushi/Sashimi Combo for $11.50.  You get miso soup, salad, 5 pieces of sushi, 7 pieces of sashimi and 4 pieces of California roll!  That's really quite a bargain for such sushi and sashimi feast!
Here's the picture of Benihana's Sushi And Sashimi Lunch Special combo: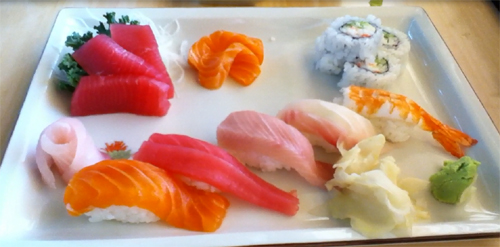 Another great deal at Benihana is their Happy Hour menu (4pm-6pm).  The Happy Hour menu has unbelievably cheap prices on appetizers and sushi!  There is $2 edamame and seaweed salad, $3 california rolls, $5.95 huge and fancy rainbow roll (normally $11.95) and lots more! Basically, the sushi is 1/2 off during the happy hour – you won't find this deal anywhere else!  The Wheeling Benihana has happy hour even on weekends!  Ever since we discovered the Happy Hour at Benihana, that's the only place we go to for sushi dinner!
Here are some more pictures of Benihana food:
Benihana Edamame: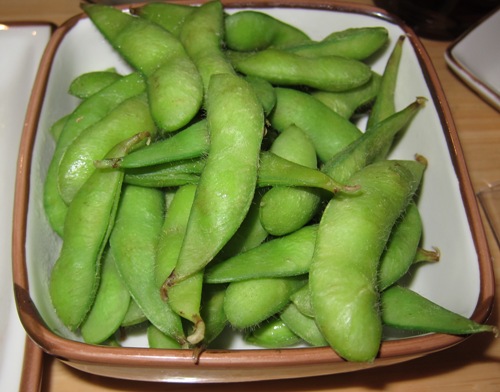 Benihana Jalapeno Sashimi Appetizer: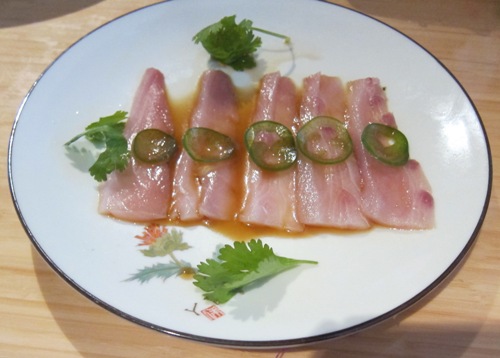 Salad that comes with the sushi combos: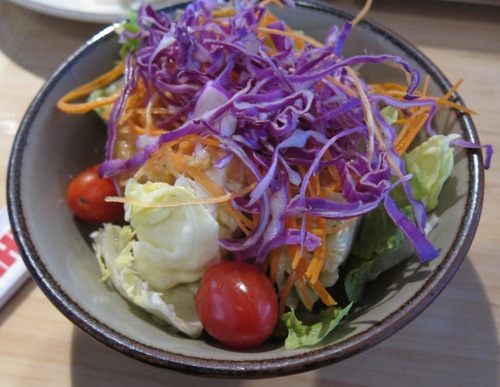 Benihana Sushi Combination: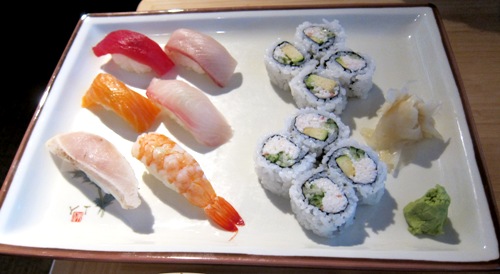 Benihana Rainbow Roll: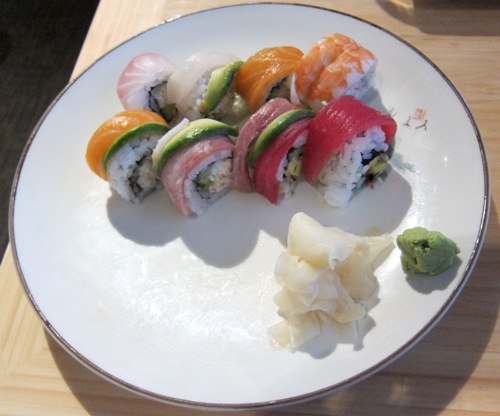 Benihana is located at 150 N. Milwaukee Ave., Wheeling, IL 60090.  Benihana's phone number is 847-465-6021.
If you like sushi, you might also be interested in my guide on how to make california sushi rolls.