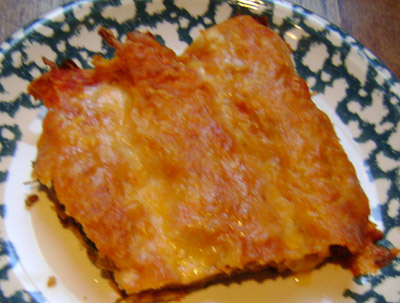 This beef enchiladas recipe tastes very authentic, and goes really well with guacamole!
Ingredients For Beef Enchiladas Recipe:
10 corn tortillas
1 lb ground beef
1 onion, chopped
4 garlic cloves, minced
1 can (8 oz) tomato sauce
1 bunch of cilantro (leaves chopped, stems discarded)
1 package (8 oz) shredded cheddar cheese
1 tbsp chili powder
1 tsp cumin
1 tbsp oil
Salt and pepper to taste
Directions How To Make Beef Enchiladas:
Heat the oil in a non-stick frying pan over medium-high heat.  Add chopped onion and cook, stirring periodically, for 5 minutes.  Add ground beef, sprinkle with chili powder and cumin, and stir to combine. Cook, stirring periodically, for 7 minutes, or until cooked through (no longer pink).
Add garlic and 1/2 of the can of the tomato sauce.  Stir and cook for 3 minutes.
Turn off the heat.  Add chopped cilantro and 1/2 cup of shredded cheese, and stir to combine.   Add salt and pepper to taste. The filling for the beef enchiladas is ready.
Add water to the remaining tomato sauce in a can so the can is full, and stir with a spoon.   Pour 1/4 of the tomato sauce and water mixture on the bottom of the 8×12 baking dish, and spread so it covers the bottom of the dish.
Heat the corn tortillas in the microwave: 3 at a time, for 30 seconds.  After you heat the first 3 tortillas, assemble 3 enchiladas, then heat 3 more tortillas, etc.
To assemble the enchilada, put a heaping tablespoon of the beef filling on top of the tortilla, then roll the tortilla into a roll.  Put on a baking dish seam side down.  Put all assembled enchiladas in that baking dish next to each other.
Pour the remaining tomato sauce (that was mixed with water) on top of the enchiladas.  Sprinkle with the remaining shredded cheese.  Bake at 375 F for 30 minutes.