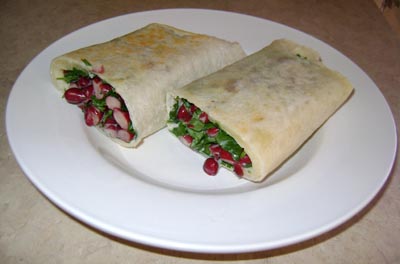 This vegetarian wraps recipe is very quick, very healthy and very fresh tasting!
Ingredients for these vegetarian wraps:
1 can of beans, drained and rinsed
1/2 bunch cilantro, chopped
1/2 cup plain yogurt
2 large flour tortillas
Directions for the vegetarian bean and cilantro wraps:
Mix beans, cilantro and yogurt.   Put half of the mixture on one tortilla and the other half on the other.  Wrap the tortillas around the filling to make 2 wraps.