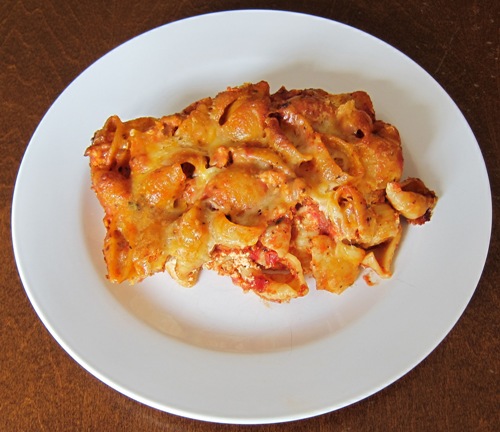 This is very easy recipe for a baked pasta casserole.  For this casserole recipe, I like to use pasta shells.  You can use small or medium size pasta shells – any pasta shells except those giant ones that are meant for stuffing.  In the pictures on this page, I'm using Barilla Pasta Shells that are labeled "large" – they don't seem too large to me, however, they look more like medium.  You can also use other kind of pasta that are shaped like pieces – just don't use spaghetti :)
For a lighter version, use low-fat ricotta cheese and the leanest meat possible.  I always use extra-lean ground turkey breast in this recipe.
Ingredients For Baked Pasta Shells Casserole Recipe:
1 lb pasta shells (small or medium size – NOT the huge ones for stuffing)
1 lb ricotta cheese
1 lb ground meat
1 jar pasta sauce (1 lb)
1 onion, chopped
1 tbsp oil
4 cloves garlic, minced
1 egg
1 cup shredded cheese
Salt and pepper
Directions For Making Baked Pasta Shells Casserole With Ground Meat And Ricotta Cheese:
Cook pasta according to package directions.
Preheat oven to 375F.
Heat the oil in a large non-stick frying pan over medium-high heat.  Add onion and cook, stirring occasionally, for 5 minutes.  Add ground meat and cook, stirring occasionally, for 10 minutes, or until the meat is cooked through (no longer pink).  Add minced garlic, 3/4 tsp salt and 1/4 tsp pepper. Stir for 1 minute.
Add the tomato sauce to the meat on the frying pan and mix until combined.  Add the cooked pasta to the meat with tomato sauce and mix until combined.  Remove from heat.
In a mixing bowl, mix ricotta cheese, egg and 1/4 tsp salt.
Prepare a non-stick large baking pan (I use the glass Pyrex).  Divide the pasta mixture into 2 parts.  Put 1 part of the pasta mixture in the baking dish, and spread so it's an even layer.  Spread the ricotta mixture on top of the pasta.  Put the remaining pasta mixture on top of the ricotta layer.  Sprinkle the top of the casserole with shredded cheese.
Put the assembled casserole in the oven and bake for 40 minutes.  Enjoy your hot bubbling baked pasta shells casserole!  It goes perfectly with the simple green salad with lettuce and tomatoes!
If you'd like step-by-step pictures of making this recipe, click on the following link: Step-By-Step Guide For Making Baked Pasta Shells Casserole